SugarCRM Analytics Powered by Cognos Business Intelligence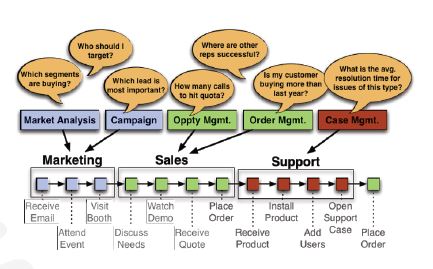 Make smarter decisions with enterprise-grade analytics!

Sugar Analytics Powered by Cognos Business Intelligence is the ideal solution for integrating advanced analytics with CRM. Customer-facing teams will be more effective with immediate access to critical insight across the entire marketing, sales, and support cycle. They'll win more business as active alerts help them track key performance metrics. And they'll increase efficiency by cutting data collection and report preparation time.
Use Sugar Analytics Powered by Cognos Business Intelligence to measure progress toward objectives, analyze data from multiple perspectives, and monitor, track and visualize business performance. Like Sugar itself, Sugar Analytics Powered by Cognos Business Intelligence combines powerful business insight with ease of use and exceptional value.
EXPAND BUSINESS ANALYSIS AND DECISION-MAKING CAPABILITIES
Create trending reports that cover a time series. Perform multidimensional analysis across any dimension at any level of aggregation. Use scorecards inside a Sugar dashboard to measure, track, and visualize performance versus goals. Report across complex business events that encompass multiple Sugar modules, such as tracking Leads to Opportunities to Accounts to Renewals.
OBTAIN BUSINESS INTELLIGENCE WITH CONVENIENT SUGAR INTEGRATION

See and review important business metrics in a dashboard report on your Sugar home screen. You can also add business intelligence, such as customer satisfaction scores or buying patterns, to existing Sugar records.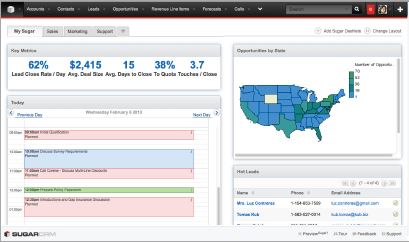 AUTOMATE DATA COLLECTION FOR FAST ACCESS
Automation lets any user—in management, sales, support, or marketing—see essential business performance information in Sugar without having to pull reports from separate systems. Data aggregated from multiple sources can be presented in a single dashboard where it's accessible and easy to interpret.
MAKE TIMELY DECISIONS WITH BUSINESS PROCESS ALERTS

Sugar Analytics Powered by Cognos Business Intelligence can send alerts based on key business parameters that have recently changed or are trending toward change, providing your organization with the earliest possible notification. Alerts can be delivered within Sugar, in email, by SMS, or in a Cognos report.
DEPLOY EASILY WITH FULL SUGAR INTEGRATION

Sugar Analytics Powered by Cognos Business Intelligence eliminates many of the challenges in integrating business intelligence with CRM. It can access all standard Sugar modules plus custom modules built with Module Builder and Sugar Studio. It provides the full range of Cognos Business Intelligence functionality based on Sugar data, including multidimensional analysis, scorecards, dashboards, reports, mobile business intelligence, real-time monitoring, and advanced visualization. Integrated security and user management ensures that the Cognos reporting module inherits security settings and new, changed, or deleted users directly and automatically from Sugar, minimizing risk and administrative overhead.
---
Contact us today for more information on Sugar Analytics Powered by Cognos Business Intelligence.
[two_third][bestwebsoft_contact_form][/two_third] [one_third_last][/one_third_last]
---
Featured
Rankings season is upon us with March Madness right around the corner. It's been another year...

Read More

SugarCRM Inc., the company that helps global organizations build better business relationships, has named Faye Business...

Read More

Forrester defines the customer journey as the series of interactions between a customer and a company...

Read More