The Benefits of a Constant Contact and SugarCRM Integration
We love integrating software with other software, which is why we've created numerous integrations. We also understand the importance of marketing your business in a variety of ways. This is why we created our SugarCRM Constant Contact Integration Application. The SugarCRM Constant Contact Integration lets the two software packages work together so you can get the maximum benefit out of your CRM program and your marketing efforts. We've talked a lot about SugarCRM and how it can help your business. But we haven't talked much about Constant Contact, so here's some more information on the marketing software we integrated with Sugar.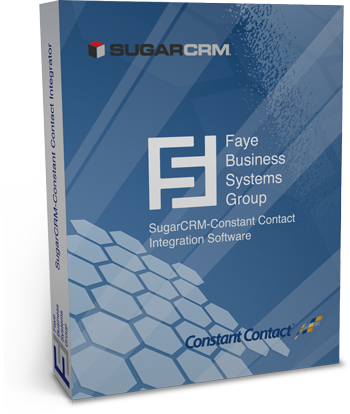 Constant Contact is a software package that gives businesses, and specifically small businesses, the tools they need to help in their marketing efforts. Constant Contact may be most well-known for the email marketing capabilities they offer to their customers. Their email marketing options are easy to use, so you don't need to have a high level of technical skill to design a campaign, but with a variety of templates you can customize a campaign so everyone will know it's from you. Constant Contact also offers social media marketing features to create a Facebook page or social media marketing campaign, and the ability to promote and track these types of marketing efforts. Other services offered through Constant Contact include event marketing, local deals, and surveys. As with the email marketing options, the hallmark of all of Constant Contact's marketing tools are a clean, easy-to-use interface that can allow you to quickly create a variety of marketing campaigns.
By integrating Constant Contact with SugarCRM, you get the advantages of both software packages and all of their features, but there are also several other benefits. The SugarCRM Constant Contact Integration Application allows you to sync your accounts, contacts, marketing lists, campaign results, and email tracking between Sugar and Constant Contact. This can save your employees time because they don't have to manually enter information twice and it can lower the risk of errors in making sure that the lists in both your CRM and marketing software are the same.
With both programs communicating, you can track your individual email results for each of your contacts within SugarCRM. You can dig down into each record to get any information you need about your contact so you can better market to them, better sell to them, and offer them better customer service. This combination of services can enhance your marketing efforts and your relationships with your customers.
Our SugarCRM Constant Contact Integration also offers the benefit of being cloud based. The cloud based nature of our integration allows you and your employees to access the information you need in Sugar or Constant Contact without having to access it from your work computer. If you're on the go or out of the office, you don't need to worry about downloading an application or making sure you have your laptop with you.
FayeBSG's SugarCRM Constant Contact Integration Application can offer you the benefits of SugarCRM and Constant Contact in one package. You also get access to other features that can only work because the two programs are integrated to work with each other. If you'd like more information on the SugarCRM Constant Contact Integration, please contact us.
Featured
Rankings season is upon us with March Madness right around the corner. It's been another year...

Read More

SugarCRM Inc., the company that helps global organizations build better business relationships, has named Faye Business...

Read More

Forrester defines the customer journey as the series of interactions between a customer and a company...

Read More