Why We Combined SugarCRM and Authorize.Net
SugarCRM is one of our favorite pieces of software. This is mainly because it is a flexible piece of software that is easy to use. Of course, there are a few things it can't do. One of the things it can't do is authorize and manage credit card transactions. Luckily, Sugar can be integrated to work with other pieces of software. This allows us to add features and function to Sugar that it doesn't normally have. In this case, we integrated SugarCRM with Authorize.Net to create our SugarCRM Authorize.Net Integration Application.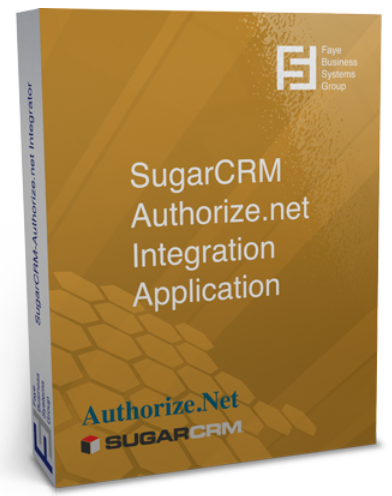 This Integration lets you and your employees use SugarCRM and Authorize.Net in conjunction with each other so you can have the best of both worlds. We've talked a lot about the benefits Sugar can offer for your business. So, we should probably discuss Authorize.Net a little before we talk more about the Integration Application.
Authorize.Net is designed to let you deal with every aspect of a credit card transaction. It lets you deal with these transactions from the Web, from your store, from your phone, and from your mobile devices. It makes sure you don't have to deal with the middle man so you can keep track of all of the credit card transactions that come into your business.
FayeBSG's SugarCRM Authorize.Net Integration Application will allow you and your employees to enter credit card information into Authorize.Net from within SugarCRM. So if you're already dealing with a customer in Sugar, you can save time and avoid possible confusion by staying in the same program to enter more information on that customer. Users who are authorized within SugarCRM can charge and authorize credit cards for specific amounts so that anyone who needs to collect a credit card payment can take care of it. With the SugarCRM Authorize.Net Integration you and your business can stay organized because the information is safely stored in Sugar and can be easily accessed whenever you need to access it.
Our Integration Application can also offer these benefits:
Safe, simple credit card transactions that comply with all credit card laws
Protection for all client profiles and billing transactions
Quick and easy profile creation for all customer quotes
Secure client billing and payment reprocessing
Ability to authorize and charge accounts from Accounts, Contacts, and Quotes
We think that the SugarCRM Authorize.Net Integration Application can offer huge benefits to your business by allowing you to quickly, easily, and safely deal with credit card transactions for your customers. If you'd like to share your success stories or get more information on this Integration, please contact us.
Featured
Rankings season is upon us with March Madness right around the corner. It's been another year...

Read More

SugarCRM Inc., the company that helps global organizations build better business relationships, has named Faye Business...

Read More

Forrester defines the customer journey as the series of interactions between a customer and a company...

Read More