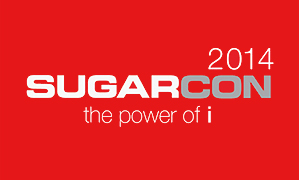 SugarCon 2014 is a great opportunity for you and your colleagues to learn just how far your CRM can take you. Now, every customer-facing employee has the ability to create an extraordinary customer experience. Join us April 29 – April 30 for our general conference to collaborate, explore and get inspired by the possibilities that await you. Stay an extra day and take an in-depth training session on May 1.
You will learn:
• What today's businesses need to thrive in the new era of CRM and social selling
• How to focus on your most valued assets and gain better control of your customer interactions
• New strategies for helping every employee in your organization to deliver a consistent, high quality experience every time
• The latest techniques for creating predictable, effective customer interactions, and ultimately customer loyalty and business success
• How to make the most of the exciting editions in Sugar 7 Cool configurations and customizations in Sugar Studio and Sugar Logic
To check out the full agenda, learn more about the keynote speakers and view tracks/session details, please visit www.sugarcon.com.
Passes are limited to current Sugar customers so claim yours today! Simply email sugarcon@executivevents.com to request your free pass.
Get the latest information around SugarCRM, the newest version of Sugar and all upcoming news and events at www.sugarcrm.com.