Constant Contact and SugarCRM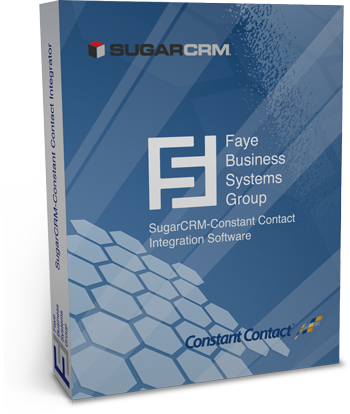 One of our favorite things about SugarCRM is the way that it can be integrated with other software. Not only does this let us keep using Sugar without the need to switch programs, it actually makes the CRM software even better. Sugar has built in marketing capabilities, but if you'd like a dedicated service or are already accustomed to other online marketing software, that option always available to you. Our SugarCRM Constant Contact Integration Application combines the leading open source CRM package with Constant Contact, one of the leading online marketing solutions. Of course, combining the two software packages just makes them even better. Here are some ways that FayeBSG's SugarCRM Constant Contact Integration can allow your marketing teams to flourish:
You can eliminate the double entry of contacts in Constant Contact. This can help save your employees time and confusion while sifting through a list of contacts. With the double entries eliminated, they can find exactly the people they want to find in a quick and efficient manner.
You can update marketing lists within SugarCRM. With this feature you can make sure that any marketing list information that has been added to Constant Contact can be imported directly into your CRM software. Here again is a time and frustration saver. Your employees can do more marketing without have to tediously update lists in two programs.
You can manage campaign results within SugarCRM. If you're more comfortable managing your campaign results within your CRM software or you'd like to take advantage of Sugar's marketing analytics, this integration allows you to do just that. By sharing the data between SugarCRM and Constant Contact, you can break down your marketing campaigns in your CRM software. These campaign results can also be viewed by contact to understand exactly where you were and weren't successful. By doing this, any information gained on your customers is immediately useful in building relationships with them. To go along with this, you can create reports in Sugar to share with your company based on information from Constant Contact.
You can easily synchronize SugarCRM and Constant Contact. With the two software packages integrated with one another, the quick and easy synchronization between the two can make sure that the data you need is where you need it.
You can create automated emails and workflows. Once you've run through a campaign in Constant Contact, analyzed the results, and figured out what really works, you can automate new emails and workflows for new campaigns. The obvious benefit here is that you save time creating a campaign, but you also get to make sure that what worked for one campaign stays in place for your next one.
We think that our SugarCRM Constant Contact Integration Application provides great benefits for saving time and frustration, while also offering robust features to aid your marketing teams. If you'd like to see what the Integration can do for your company, let us know.
Featured
Rankings season is upon us with March Madness right around the corner. It's been another year...

Read More

SugarCRM Inc., the company that helps global organizations build better business relationships, has named Faye Business...

Read More

Forrester defines the customer journey as the series of interactions between a customer and a company...

Read More