SugarCRM Sage Integration
Combine Sugar(CRM) and Sage (100 ERP) For Something Delicious
What do SugarCRM and Sage 100 ERP have in common? You might say that SugarCRM is the leading open source CRM software package in the world and that Sage 100 ERP is the one of the leading accounting and ERP software packages in the world. You might also say that they are both our software of choice for our CRM and accounting needs. And still, there's a third thing they have in common, the SugarCRM Sage ERP Integration Application. Our SugarCRM Sage Integration gives you something delicious by offering the best experience in using the two pieces of software together.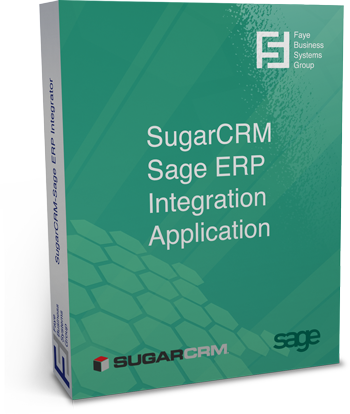 FayeBSG's SugarCRM Sage Integration allows SugarCRM and Sage 100 ERP to interact with each other and easily work together. We felt that by combining the two, it would make life a lot easier for business owners and their employees, and we think we were right.
The highlight of the Integration Application is the ability to keep all of your customer information and all of your accounting information together in one place. The most obvious benefit of this is that you and your employees don't have to switch applications or dig around for the information necessary to do the best job possible. The SugarCRM Sage ERP Integration Application keeps all that information together by allowing users to send the information back and forth between the applications or by synchronizing the software.
With all of the information in one place, there are several other benefits for everyone at your company. One of those benefits is that sales history and credit information can be available in your CRM software (in this case, sent directly from your accounting software). By having that information available in your CRM software, your marketing and sales teams can have easy access to it so they can do their jobs more efficiently. A similar function occurs with product lists. Instead of an employee manually entering the products on the list, your ERP software can share them with your CRM software. You can also move quotes, invoices, and sales orders between the two for easy access in the SugarCRM Sage Integration.
Sometimes, when moving this kind of information between two applications, double entries can show up and make it more confusing for everyone. With this integration, that is not the case. The SugarCRM Sage ERP Integration Application is able to eliminate double entries of quotes and sales orders on the accounting and CRM sides of the program.
Not only does this integration make it easier to combine your information, it makes it easy to access too. Any customer information that has been integrated can be accessed through the Sugar Accounts Module as sub-modules. All of the other integrated information is easily viewable and accessible through Sugar's built in interface. Once you find what you need, you can dig deeper in, as with all Sugar software.
The SugarCRM Sage ERP Integration Application provides the best of both the SugarCRM and Sage ERP worlds in one easy to use package. Check out this video to learn even more about our SugarCRM Sage Integration.
Featured
Rankings season is upon us with March Madness right around the corner. It's been another year...

Read More

SugarCRM Inc., the company that helps global organizations build better business relationships, has named Faye Business...

Read More

Forrester defines the customer journey as the series of interactions between a customer and a company...

Read More