Marketing Campaign Management in SugarCRM
Managing a marketing campaign can be difficult. There can be a lot of people involved with a lot of moving pieces and at least one person should be able to keep track of the whole thing. This is where SugarCRM comes in. If you're looking for a way to manage your marketing campaigns, Sugar can provide the tools that you need. SugarCRM offers a Campaign Wizard that can support the different marketing disciplines across the wide variety of channels available to marketers. These features can ensure you that you and your employees can easily manage your marketing campaigns.
The SugarCRM Campaign Wizard streamlines how you design, implement, and execute your campaigns. With this simplified structure you can:
Make sure that your campaign is properly tested;
Has the suppression you want;
Manage your various marketing lists.
Once your marketing is in full effect, the Campaign Wizard can give updates in real time and offer reports on the ROI of the campaign.
The Campaign Wizard is not the extent of SugarCRM's campaign management options. Sugar supports broadcast marketing, direct marketing, and lead nurturing across channels that include email, online advertising, search engines, and events. These are just some of the options available with Sugar, but its potential is actually even higher. The CRM software runs off of PHP, which allows for customization and flexibility in how you manage your campaign  options. If you want to customize Sugar to do something specific, you can!
Looking at the options available to email marketing through Sugar can give you an idea of what else it can do. With an email campaign in SugarCRM, you can choose   a specific message, send it out to the targeted audience, monitor it to make sure they receive it, and then assign the opportunities to your campaign leads. You can keep track of who has opted in and out of your email lists.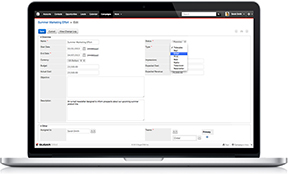 This shows just what you can do to manage all of your marketing campaigns. While running multiple campaigns, it is important to keep your brand consistent across your different projects and coordinated across the channels that you have decided to use. In the case of direct marketing, you want to know exactly who it is going to and if they received it, so you can understand their response. If an opportunity is created through your marketing effort, you know about it and can make sure it gets to the right person in your company.
Once you've completed a marketing campaign, there are a variety of analytics available to help you decide what course to take in the future. As discussed above, the Campaign Wizard can let you know if you're getting a good ROI out of a campaign. However, Sugar can also track which channels are most and least profitable so you can improve your ROI in newer campaigns. With SugarCRM, those newer campaigns can be easily recreated in just a few steps so that they can be used again.
These are just a few of the ways that SugarCRM can help you with your marketing campaign management. There are other more in depth features available with the software and like I mentioned before, Sugar offers numerous customization options so you can make sure it does exactly what you need it to do.
For more information on any of the concepts discussed here, click here to give us a shout!
Featured
Choosing a new CRM isn't an easy decision. However, once an organization gets to the finish...

Read More

Should you host your customer relationship management software in the cloud? Short answer: yes. We're going...

Read More

Have you ever heard of Pareto's Principle? Neither had we by that name. But it's also...

Read More