FayeBSG SugarCRM QuickBooks Integration Application new release to take advantage of Sugar UX™ in Sugar 7
The FayeBSG SugarCRM QuickBooks Integration is Now Available for Sugar 7, the next-generation customer engagement platform.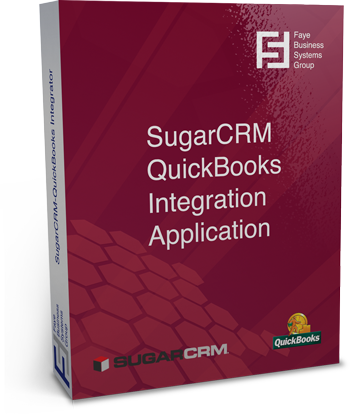 As a leading SugarCRM Gold Partner in Southern California, we are excited to announced that our award winning FayeBSG SugarCRM QuickBooks Integration Application is now generally available for users of the newest version of SugarCRM, Sugar 7. Sugar 7 is a highly personalized customer engagement platform that empowers every customer-facing professional across the entire enterprise to more effectively connect with their customers. As a game-changing, intuitive CRM solution that delivers intelligence to every user, Sugar equips businesses with a new way to elevate their critical one-to-one user-to-customer experiences.
"We announced the first ever SugarCRM QuickBooks integration application several years ago," said FayeBSG CEO David Faye. "With the brand new Sugar UX™ in Sugar 7, we're able to leverage features with the FayeBSG SugarCRM QuickBooks Integration Application that were previously not doable. For example, when a user is on an account screen, they will have quick access to viewing sales by product chart and open invoices on the new Intelligence Pane. Additionally, users will have the option to be notified on the activity stream when an account is over their credit limit, whenever an invoice is past due for over 30 days, and more. Having quick access to this data allows our users to access better intelligence as well as provide better customer service to their own customers."
"Combining customer data from Sugar with rich, back office accounting data from QuickBooks allows every Sugar user to better understand and embrace the individual customer by providing a deeper understanding of the organization's financial history at a glance," said Patrick Pahl, vice president of Alliances at SugarCRM. "We are excited that Faye Business Systems Group has delivered seamless and effective integration between Sugar 7 and QuickBooks to facilitate increased efficiencies for Sugar users throughout the organization."
Designed to address the growing demand QuickBooks users have for an integrated CRM solution, the FayeBSG SugarCRM QuickBooks Integration Application is extending the functionality QuickBooks users have become accustomed to with a single view of customer interactions. The integration eliminates double entry of customers and sales orders in both Sugar and QuickBooks, updates Sugar with critical invoice history information that can be used for marketing campaigns and salesperson inquiries, and provides access to product lists and inventory status in Sugar without having to manually key in items.
The FayeBSG SugarCRM QuickBooks Integration Application enables users to enter sales orders in SugarCRM and have those orders synced into QuickBooks in real-time. Salespeople on the road can enter orders on the mobile device of their choice, such as a laptop or iPad, eliminating the need to email orders into the office, or to wait for direct remote access to QuickBooks. Inventory changes and customer name and address changes in one system can be instantly updated in the other. Additionally, the FayeBSG SugarCRM QuickBooks Integration Application negates the need for adding QuickBooks user licenses by seeing financial ERP data in SugarCRM. Ultimately, sales representatives will see all necessary information from within Sugar and will no longer need access to QuickBooks. e
Still not using SugarCRM? Click here for a free trial or contact us today for more information.
Featured
Rankings season is upon us with March Madness right around the corner. It's been another year...

Read More

SugarCRM Inc., the company that helps global organizations build better business relationships, has named Faye Business...

Read More

Forrester defines the customer journey as the series of interactions between a customer and a company...

Read More