You probably already know that we really, really like to use SugarCRM. We also like to find any way we can to make Sugar even better. This is why we look for ways to make it more effective, easier to use, and ultimately, meet any needs you might have. We created our software integrations to accomplish these goals and we think that we've succeeded by creating software that everyone can benefit from. Based on these thoughts, it made sense to integrate SugarCRM with QuickBooks.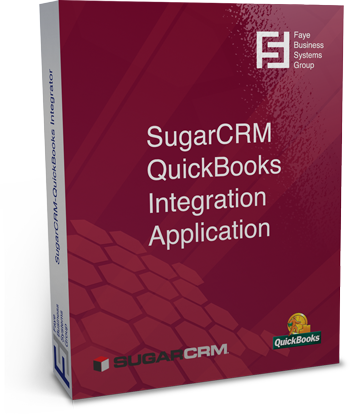 QuickBooks is one of the most popular accounting and ERP software packages in the world and SugarCRM is the fastest growing CRM package. By integrating them, we made sure that you and your employees could get the benefits of both in one easy to use piece of software.
Here are a few ways that FayeBSG's SugarCRM QuickBooks Integration Application lets SugarCRM and QuickBooks communicate with each other so that you streamline your business processes:
With this Integration Application, you can eliminate the double entry of customers in both your CRM software and your accounting software. This can save everyone from the monotonous task of clearing out double entries in individual pieces of software.
The SugarCRM QuickBooks Integration also eliminates the double entry of sales orders in both programs. Again, this can save everyone from a tedious task, but with the elimination of sales order double entries, you can make sure that the correct amount of a product is sent out.
The Integration Application can automatically update product lists in your CRM software by obtaining the information from the QuickBooks side. This can save your company time and money because employees will not have to manually enter product information into two separate pieces of software.
The QuickBooks part of the software can update the SugarCRM part of the software with the invoice history. Your sales and marketing teams can use the invoice history in Sugar for campaigns and customer inquiries.
The convenience aspect is a two way street. Any accounts, quotes, and sales orders entered into Sugar will appear in QuickBooks. Your different teams can use this data to help them better perform their jobs and they save the time by not needing to look it up and move it into another program.
Of course with the SugarCRM QuickBooks Integration Application, you also receive everything that you love about SugarCRM and QuickBooks. We're proud of the easy to use and easy to install Integration Application and we think it can offer great benefits for you, your business, and your employees.