Critical Components of ERP Software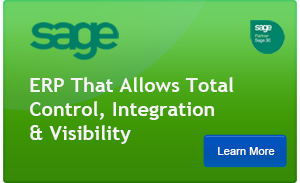 We recently talked about the critical components of CRM software and why it is important to make sure the software you buy for your company meets all your needs. This same sentiment applies to ERP software. When choosing ERP software for your business, you should make sure that it offers you and your employees the best opportunities for success. The right ERP software for your business should be customizable, and have diverse accounting, distribution, and project management options. With those critical components in mind, you can purchase the best ERP software for your company.
Customization:
Customization might be the most critical components of ERP software. ERP software that is customizable gives you the ability to choose what modules you would like to include in your company's ERP software. These modules are typically used to accomplish something specific such as, accounts payable, inventory management, or payroll. However, the modules aren't just limited to the basics and can include a wide variety of functions. So not only is it important to choose customizable ERP software, you want to make sure that the modules you want are available for your chosen software. By being aware of this critical component, it can be easier to make sure you get the right ERP software with the best selection of modules.
Accounting:
ERP software is frequently purchased because of its accounting options, so it is essential to purchase software that can meet your accounting needs. As mentioned above, the modules available for different ERP software packages should be a deciding factor. If you just want some basic modules, you could consider software that came with basics like, accounts payable, accounts receivable, and a general ledger. These are some accounting functions that will serve any business, but you may want some more advanced options for your business. In that case you may look to modules that could provide insights into your business, assist with credit and collection management, and filing taxes. When choosing ERP software, it is critical to make sure the accounting options can meet your needs, so your business can continue to run smoothly.
Distribution:
While accounting modules are critical to ERP software, distribution options can be just as essential. The options for distribution modules may not be as diverse as the accounting modules, but they can still be vital to your business. Distribution modules in ERP software can help businesses with inventory management, sales orders, and purchase orders. The distribution of your products and services can be key to the success of your business and bringing in revenue to continue that business. This is why having ERP software that provides you with the right distribution options is important for your success.
Project management:
Accounting modules and distribution modules benefit your business by taking care of the money coming in and the products going out, but project management modules can help take care of your employees. Payroll and time card modules fall under the umbrella of project management options in ERP software. Those modules help make sure that your employees are paid accurately and on time. By using the right project management options for your business, you can keep your employees paid and happy. In turn, your business can keep running smoothly.
We think these are the critical components of any ERP software we would use and Sage 100 ERP has all of these modules and more. Learn more about how Sage 100 ERP can help your business in these customer success stories.
Featured
Rankings season is upon us with March Madness right around the corner. It's been another year...

Read More

SugarCRM Inc., the company that helps global organizations build better business relationships, has named Faye Business...

Read More

Forrester defines the customer journey as the series of interactions between a customer and a company...

Read More