SugarCRM – How To Set Up Access to the Sugar Support Portal
SugarCRM customers are allowed to allocate from one to four Support-Authorized personnel depending on the purchased level of support by your company. The nominated Support personnel (also known as 'Contacts') can submit cases via the Case Portal. Only your allocated Support Authorized Contacts will be able to submit support cases to SugarCRM Support.
Steps to Complete
In order to create a Support Portal account, please follow the steps below:
Creating a SugarCRM.com Account
1. Go to www.sugarcrm.com and click on the "login" link on the upper right hand corner.
2. Click the "Create new account" button, complete the required fields, and click "Login".

Adding Support Portal Access to Your SugarCRM.com Account
1. Once you are logged in with your SugarCRM.com account, go to the "Submit a Case" link within the "Support & Training" tab.

2. Click the "online form" link in the message below.

3. Please complete the online form to get access to the case portal. The subscription key must be provided in order to link your portal name to your account. You can find this key labeled as "Download Key" in Admin > License Management.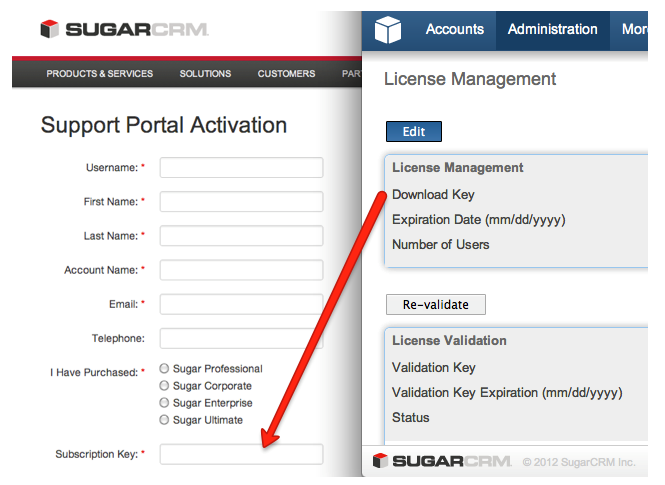 4. Once this online form has been submitted, our Support team will receive the Support Portal activation request. Your support portal account will be enabled within 1 business day of submission and you will be notified via a case email when it has been set up.
Please contact us at info@fayebsg.com if you require further assistance or would like to discuss support packages.
Featured
Rankings season is upon us with March Madness right around the corner. It's been another year...

Read More

SugarCRM Inc., the company that helps global organizations build better business relationships, has named Faye Business...

Read More

Forrester defines the customer journey as the series of interactions between a customer and a company...

Read More