Select the Right ERP Software
Enterprise resource planning software can make it easier to manage almost every aspect your business. These aspects include accounting, distribution, warehouse management, manufacturing, and project management. As ERP software can help with so much, it is important to select the right one for your business. The right ERP software for your business is one that will do exactly what you want it to, so your company can succeed.
With the right ERP software, you can purchase the specific modules that meet your business needs. These modules can offer you benefits in accounting, distribution, project management, manufacturing, and business intelligence. As you are purchasing the software and the modules, it is even more important to make sure you are selecting one that can offer and support you with the services that you want. If it can't support the services you need, you won't be able to put together the best platform for your business.
We believe that the Sage 100 ERP family (AKA Sage MAS 90 and Sage MAS 200) can be the right ERP software for your business. Sage offers modules to help your business with accounting, distribution, resource management, project management, manufacturing, business intelligence, and customer relationship management.
The accounting modules can help manage accounts payable, and help with tedious tasks like, bank reconciliation. The accounts payable module can help increase productivity, manage expenditures, as well as offer you a way to flexibly disburse cash and write checks. The bank reconciliation module streamlines this process by detecting unrecorded checks, finding the differences, and reconciling your books to the bank statements.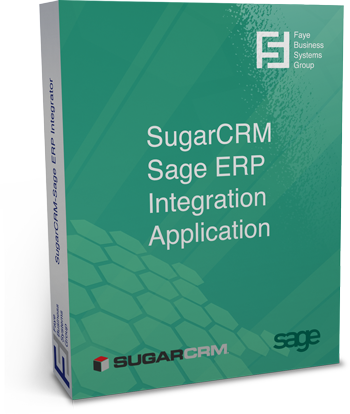 The distribution modules can offer benefits for inventory management and credit card processing. The inventory management module can make your company more successful and offer exact control by letting you keep track of where goods are moving to and whether they have been received, among other things. The credit card processing module can provide solutions to process telephone, mail, and Internet orders. This module can work with the accounts payable and bank reconciliation modules to store information and make sure it is accurate.
Another reason we think Sage 100 ERP can be the right solutions for your organization is because we love software that is easily integrated with other software. We have integrated Sage with SugarCRM to provide you with a true 360 degree of customers. Our SugarCRM Sage ERP Integration Application lets your ERP software and CRM software work together so you can manage customers and inventory at the same time.
When you're selecting ERP software for your business, it is important to select the right one that will meet all of your needs. We think that Sage 100 ERP can meet your needs with a wide variety of modules and the ability to easily integrate with other software.
For more information on Sage 100 ERP and our other software solutions, please contact us.
Featured
Rankings season is upon us with March Madness right around the corner. It's been another year...

Read More

SugarCRM Inc., the company that helps global organizations build better business relationships, has named Faye Business...

Read More

Forrester defines the customer journey as the series of interactions between a customer and a company...

Read More