SugarCRM vs Salesforce. Quality is Not a Luxury it Should be the Norm.
Businesses often view software quality as a luxury. Due to difficulties in implementing a new product and the expenses associated with the software, training and ongoing support, they think quality is something that can be sacrificed. In reality, in recent times software development companies that have a firm commitment to building quality products at a reduced costs, with the ability to add new features with greater ease, allow businesses to not have to choose between quality and budget restrictions.
Quality no longer equals exorbitant costs. In fact there has been an explosion of new software companies in recent years that are producing better developed software products, with more functionality and at a lower cost.
Take a look at two top ranking CRM systems. The new player on the field, SugarCRM, exudes quality and ease of customization at a lower cost, whereas long time player Salesforce, which can be up to triple the price, is much harder and more expensive to customize and bears many user restrictions.
We invite you to join us for our 20 minute webinar presentation on Thursday, July 25th, at 11:00am PST where we will explain in layman's terms how these two top ranking CRM systems can differ so much in not only cost, but technology, functions, features and usability.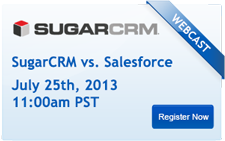 Topics to be discussed:
• Value & Total Cost of Ownership
• Architecture – Open VS. Closed
• Limitations
• Deployment Options
• Data Control & Accessibility
Delivering quality is a powerful differentiator in a marketplace where high-quality software is now the exception rather than the rule. Let us show you a quality software solution.
If you have any questions in the interim, please don't hesitate to give us a call or fire us an email at info@fayebsg.com
Featured
Rankings season is upon us with March Madness right around the corner. It's been another year...

Read More

SugarCRM Inc., the company that helps global organizations build better business relationships, has named Faye Business...

Read More

Forrester defines the customer journey as the series of interactions between a customer and a company...

Read More