Getting the Most Out of Your Time with SugarCRM-QuickBooks Integration
In today's "hustle and bustle" way of life, it seems like most people are looking for ways to save time, especially at work. There is usually not enough time in the day to keep up with the amount of work piled on your desk (or in your email inbox),meetings, special projects, running reports and more.
Products that can help you be more effective by saving time and energy are pretty awesome. If you are a QuickBooks user and also a SugarCRM user (or if you are considering implementing a CRM tool) I encourage you to take a look at the SugarCRM – QuickBooks Integration. This tool enables data to be synced between the two software products and drastically cuts down on the amount of manual labor you have to do.
You might have heard about some of the great features of the SugarCRM – QuickBooks Integration already:
• Save time by syncing data
• Prevent errors
• Decrease double data entry
• Product lists sync to SugarCRM (from QuickBooks)
Any one of these features may pique your interest based on the area you need the most help in.
Beyond this, the portion of the Integration that is uniquely accommodating is the mapping feature found in SugarCRM.
After you install the Integration, the Admin will have the option of going into the SugarCRM & QuickBooks Field Mapping part of the Integration to choose the Customers Mapping. This mapping tool tells Sugar and QuickBooks where to send information during the sync. You can choose exactly which information gets updated in your customer accounts, invoices/sales receipts, line-items, inventory items and more.
Also, it is important to mention that the Integration allows you to set up custom mappings to accommodate all of your business needs. As the Admin, you can also delete and change the mappings at any time.
[button link="https://fayebsg.com/" size="medium" target="_blank" color="blue" lightbox="false"]Click here for more info![/button]
[gap height="20″]
Join us on August 15th at 10AM PDT for a live web demo of the SugarCRM-QuickBooks Integration.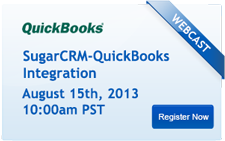 Featured
Rankings season is upon us with March Madness right around the corner. It's been another year...

Read More

SugarCRM Inc., the company that helps global organizations build better business relationships, has named Faye Business...

Read More

Forrester defines the customer journey as the series of interactions between a customer and a company...

Read More