Are You Drowning in Customer Issues? Get a Clearer View with the SugarCRM JIRA Integration
Growth is good… right? Of course it is, but when your business grows it becomes harder to maintain the service you provide and the relationships you develop. Providing a proficient service is of the utmost importance, and to continue to keep your business and customers happy you need to be prepared for growth spurts.
Do you need to start thinking about how to efficiently manage projects and issues, internally and for your customers?
It might be time consider which solution or multiple solution that will assist and complement the growth of your company.
Project Management systems provide a way for project managers to efficiently organize and manage complex projects from start to finish via request, resource, asset, budget and tasks. The most capable solutions also provide tools for teams to communicate and ways for clients to view reports and statuses.
Combining your project management with your Customer Relationship Management Software, will give all users the insight to what is going on with each and every customer. It will allow your whole team to provide a better service by addressing the growing demand of project managers, consultants and customer service representatives for an integrated CRM solution.
Integrating your Customer Relationship Management (CRM) system with your Project Management solution will allow you to:
Stay on top of issues more timely
Engage more effectively with your Customers
Collaborate more effectively with team members
Improve overall satisfaction related to customer service efforts
Help you better understand and evaluate your customers
Manage your business more effectively
 To find out more sign up for the July 11th webinar.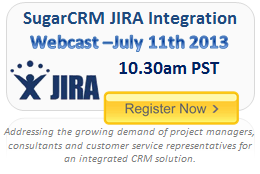 Find out how the integration will allow you to:
View and access critical Issues from your CRM Dashboard
Receive critical Issue alerts from within your CRM
View your Issues as a list from within your CRM
Search your Issues from within your CRM
View Issue details from within your CRM
To register Click Here
Download the Spec Sheet
Download the Press Release
Not sure what JIRA is? Click Here
Featured
Rankings season is upon us with March Madness right around the corner. It's been another year...

Read More

SugarCRM Inc., the company that helps global organizations build better business relationships, has named Faye Business...

Read More

Forrester defines the customer journey as the series of interactions between a customer and a company...

Read More