Why Integrate your Project Management Solution with CRM Software?
Integrating your Project Management Solution with your CRM will allow your team to:
Stay on top of issues more timely

Engage more effectively with your Customers
Collaborate more effectively with team members
Improve overall satisfaction related to customer service efforts
Help you better understand and evaluate your customers
Manage your business more effectively  
The FayeBSG SugarCRM JIRA Integration Application gives users the ability to monitor and track JIRA issues from within the SugarCRM Ecosystem. CRM users can use dashboards and other standard Sugar tools to stay abreast of critical project developments from within Sugar, being able to look at issues by account, by type, and by priority. A Critical Issues Dashboard has been created for the Sugar home screen to allow users to be alerted when any issue becomes in danger of going over budget or past due.
You'll have the ability to:
View and access critical Issues from your CRM Dashboard
Receive critical Issue alerts from within your CRM
View your Issues as a list from within your CRM
Search your Issues from within your CRM
View Issue details from within your CRM
Get a first look at the integration, as FayeBSG will be hosting a webinar at 10.30am (PST), on Tuesday, June 18th 2013, to show how integrating SugarCRM with JIRA project management software will increase efficiency and productivity.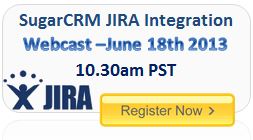 If you have any questions, please don't hesitate to give us a call or send us an email at info@fayebsg.com
Featured
Rankings season is upon us with March Madness right around the corner. It's been another year...

Read More

SugarCRM Inc., the company that helps global organizations build better business relationships, has named Faye Business...

Read More

Forrester defines the customer journey as the series of interactions between a customer and a company...

Read More