Why Integrate JIRA with Sugar?
What is Project and Issue Tracking Software and what are the benefits?
Project Management and Issue Tracking software refers to a software package designed to focus on all challenges that require managing within a company. It can be used for both internal project tracking and tracking incoming client or customer projects and issues.
Key Benefits of Issue/Project Tracking Software:
Visibility of unresolved issues
Defining an issue cycle based on various stages
Organize how project members deal with issues
Access to resolutions
Set notification patterns
Improve productivity
Avoid  wasting time
Keeping track of the users who are assigned to issues/projects
Status of an issue/project
Communicates who does what and how
 Shows complete history of an issue
Provides a knowledge base, allowing procedures of a similar issue to be accessed
Generates performance reports
JIRA is a project tracker for teams planning, building, and launching products, their products help teams of all sizes track and share everything. JIRA is designed to connect teams with development tasks including; bug tracking, feature creation, agile planning, and activity monitoring.   JIRA is currently used by more than 70 percent of Fortune 100 companies. Companies of all sizes, use JIRA to easily capture and organize issues, prioritize tasks, take action and stay up-to-date with team activity.
Why Integrate your Project Management Solution with CRM Software?
You will be able to see, access and receive alerts while accessing vital client information within your CRM system without having to log into both your CRM and Issue management solutions.
Stay On Top of Issues
Instant notification can be assigned to critical issues that might require your immediate attention .
Engage Your Customers
Customers are able to view the issue and receive notifications through the resolution process.
Collaborate With Your Team
Members of your organization can collaborate with you on issues and projects to streamline communications and track progress of related tasks.
Improve Satisfaction
Workflow tool moves issues through the resolution process.
Understand Your Customers
Measure customer satisfaction through reports and charting tools.
Manage More Effectively
Manage project tasks and action items related to the day to day operations of your organization.
With the ability to:
View and access critical Issues from your CRM Dashboard
Receive critical Issue alerts from within your CRM
View your Issues as a list from within your CRM
Search your Issues from within your CRM
View Issue details from within your CRM
Integrating JIRA with SugarCRM
The FayeBSG SugarCRM JIRA Integration Application gives users the ability to monitor and track JIRA issues from within the SugarCRM Ecosystem.   CRM users can use dashboards and other standard Sugar tools to stay abreast of critical project developments from within Sugar, being able to look at issues by account, by type, and by priority.   A Critical Issues Dashboard has been created for the Sugar home screen to allow users to be alerted when any issue becomes in danger of going over budget or past due.
The integration includes the ability to add and edit JIRA issues from within Sugar as well as a new "Time Billing Module", a stand-alone, browser interfaced, secure, time invoicing system, to capture staffs' billable time, calculate hourly rates, and generate invoices and reports.   All of this will have visibility within Sugar.
The FayeBSG SugarCRM JIRA Integration Application  helps to streamline the issue status notification process and make critical information visible and timely across the enterprise.     It connects development and project management with the sales team so the sales team has a truly 360 degree view of a customer.   Imagine your sales team being able to walk into any customer's office with issue and project status at their fingertips along with all the other critical CRM data available in Sugar.    This is the beauty and power of the integration.
Contact us for more information, more details, or a one on one demonstration. Email info@fayebsy.com
Get a first look at the integration, as FayeBSG will be hosting a webinar at 10.30am (PST), on Tuesday, June 18th 2013, to show how integrating SugarCRM with JIRA project management software will increase efficiency and productivity. To register Click Here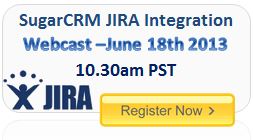 Download the Spec Sheet
Download the Press Release
Sugar JIRA Dashlet View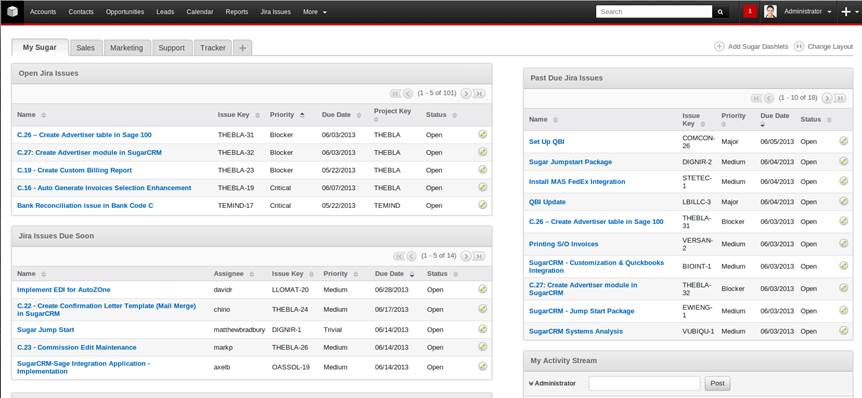 View JIRA Issues List in Sugar

Search JIRA Issues from within Sugar

View JIRA Issue details within Sugar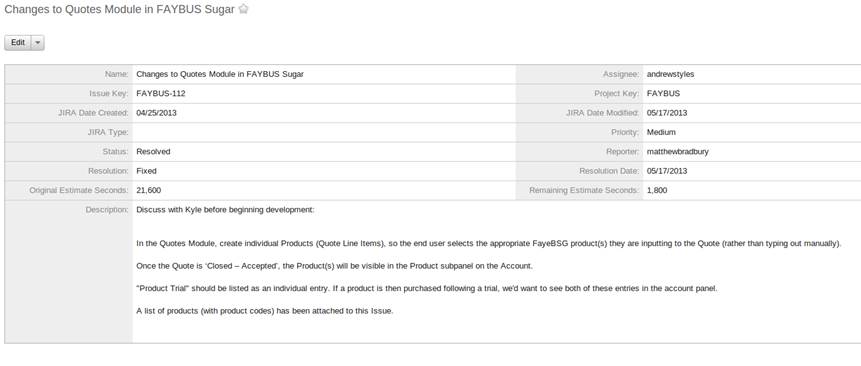 For more information or to register your interest please email info@fayebsg.com
See more FayeBSG integrations here
 Integrating CRM with your everyday software will further enhance your business processes:
Featured
Rankings season is upon us with March Madness right around the corner. It's been another year...

Read More

SugarCRM Inc., the company that helps global organizations build better business relationships, has named Faye Business...

Read More

Forrester defines the customer journey as the series of interactions between a customer and a company...

Read More