Creating Better Work Flow With SugarCRM QuickBooks Integration
I was reading an article recently that explained how many people wish they had more time, and it got me thinking… Do we really need more time in the day, or just a better way of using that time? There are certain daily tasks that I find tedious but are predictable: battling Los Angeles traffic, washing dishes, and trying to find a parking spot at the gym. However when it comes to work, I try to be as efficient as possible. Are you faced with monotonous tasks within your job? Do you look for ways to be more effective?
Faye Business Systems Group's QuickBooks SugarCRM Integration is the combination of the fastest growing CRM system with one of the world's most popular small business accounting software, it's the joining of two worlds for one purpose: To make your work life easier.
This integration prevents double entry of information into both systems. If you don't have to duplicate your work, isn't that a good thing? Without a doubt, it saves time and therefore makes your day more productive. Actually, you are more productive for two reasons: first, of course, because you don't have to do that task twice so it saves time; second, you do not risk getting lazy/bored/annoyed/discouraged and therefore slowing down the amount of work you output.
At FayeBSG we like to know what our customers are all about and a big part of that is determining what problems we can solve with our products.
I encourage you to join this free webinar if:
-You want to see how awesome this product is
-You are using QuickBooks but not SugarCRM and are in need of a better way of keeping your customers organized
-You are actively using both products and are doing double entry into both systems
-This article made you say "hmmmm"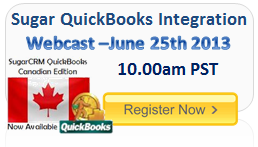 Questions, comments, feedback and suggestions are always welcome!
Message me directly at kimberly.douglass@fayebsg.com
Follow us on Twitter @FBSG
Stay Connected on LinkedIn and Facebook at Faye Business Systems Group
Featured
Rankings season is upon us with March Madness right around the corner. It's been another year...

Read More

SugarCRM Inc., the company that helps global organizations build better business relationships, has named Faye Business...

Read More

Forrester defines the customer journey as the series of interactions between a customer and a company...

Read More