Multi Tenancy vs. Multi Instance
SugarCRM uses Multi-Instance architecture. So what is Multi-Instance, and why is this better that Multi-Tenant?
Multi-Instance architecture is where multiple customers run their own separate instance of an application and operating system running on a separate virtual machine, all on a common hardware platform. Whereas Multi-Tenant architecture consists of multiple customers using a single instance of an application running on a single instance of an operating system on a common hardware platform, with only a database or data-source being different between customers. Many multi-tenant solutions leverage a common database instance, but both architectures can support giving each customer their own separate database.
Now that you have a little better understanding of the Multi-Instance and Multi-Tenant solutions, let's look as the pros for both in regards to a CRM system, such as Salesforce (Multi-Tenant) or SugarCRM (Multi-Instance).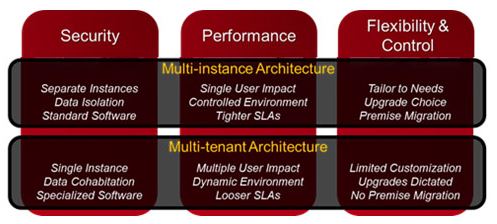 For a multi-instance architecture, the pros are:
Cost effective based on the use of common hardware and resources
Is more secure and uses isolated environments
Allows for greater flexibility and control of configuration, customization, updates and upgrades
Less risk of harmful attacks that can impact performance, reliability, or data security
Ability to migrate instance to an on-premise server, or to another cloud hosting provider
The architecture is simplified and allows for growth and flexibility of deployment
For a Multi-Tenant Architecture, the Pros include:
Cost effective via use of common hardware and resources
Requires less hardware in provider data center
Less time and resources required to update/upgrade large numbers of customers
Suited to support consumer scale applications
So why select Multi–Instance over Multi-Tenant?
Multi-Tenant costs more and requires more development resources, and more specialized tools and engineers. It is potentially a less secure environment. You will have less configuration control and it is not nearly as flexible or customizable as a Multi-Instance solution. Updates and upgrades are out of your control, and are forced upon you.  And running your company's operations on the same application instance as your competitors doesn't make sense to most organizations.
While cloud vs. on-premise is currently a hot topic for debate, a Multi-Instance architecture allows for easy migration to & from a cloud to an on-premise solution, or to & from one cloud hosting provider to another, if and when your needs or strategy change. If you are running a multi-tenancy architecture then moving instances from cloud to premise, and vice versa, is not possible – you are locked-in.
The bottom line is that the Multi-Instance architecture is of greatest benefit to business who value control over their systems, customizability and flexibility, as well as agility in responding to market changes and evolving business needs.
For more information on SugarCRM vs. Salesforce Click Here
For a Free Trial of SugarCRM Click Here
Featured
The Sage Fixed Assets module allows Sage 100 users to manage fixed assets effectively from acquisition...

Read More

Rankings season is upon us with March Madness right around the corner. It's been another year...

Read More

SugarCRM Inc., the company that helps global organizations build better business relationships, has named Faye Business...

Read More