CRM Deployment Options. Select From A Number Of Deployment Options With SugarCRM
SugarCRM offers more alternatives when it comes to CRM deployment options  to ensure that your business is ready for growth and change.
Select from a cloud deployment to get running quickly and any without capital investment. If you're restricted by compliance then you have the option to deploy on-site, behind your firewall.
As your business changes or expands, you can change your deployment to meet your business requirements, your geographic presence, and your budget, SugarCRM's flexibility ensures that you won't outgrow your deployment. Since Sugar always gives you control over your data, you'll never be forced to keep your data in a single cloud location.
SugarCRM offers a number of deployment options. Are you confused about which option is the best for your business needs and requirements? We are here to help you decide which is the best option for you. Experience More Choice and Control with Sugar Deployment Options.
Download the SugarCRM Deployment Option Data Sheet

SugarCRM Deployment Options include:
Sugar On-Demand
Is the standard software-as-a-service, cloud offer. Sugar hosts and manages your application in their cloud at no additional charge.
Sugar Private Cloud
Is the premium Sugar On-Demand offer for clients who require a greater level of control. For a fixed subscription fee, Sugar manages your application on an enterprise grade cloud and includes ODBC database access, MySQL database support, and a VPN option. The Sugar Private Cloud has support for enterprise grade SaaS infrastructure with excellent security & data isolation.
Public Cloud
Manage your Sugar application from your choice of cloud services. Choose hosting from Amazon EC2, Rackspace, Microsoft Azure, or IBM SmartCloud Enterprise.
Sugar On-Site
If you're looking for a deployment option that lets you host your Sugar application at your location and on your hardware, behind your firewall, then the Sugar On Site will be the best option for you. You have complete control and access to your data. This option is great for companies that need to protect their sensitive information and that are bound and restricted by strict compliance rules.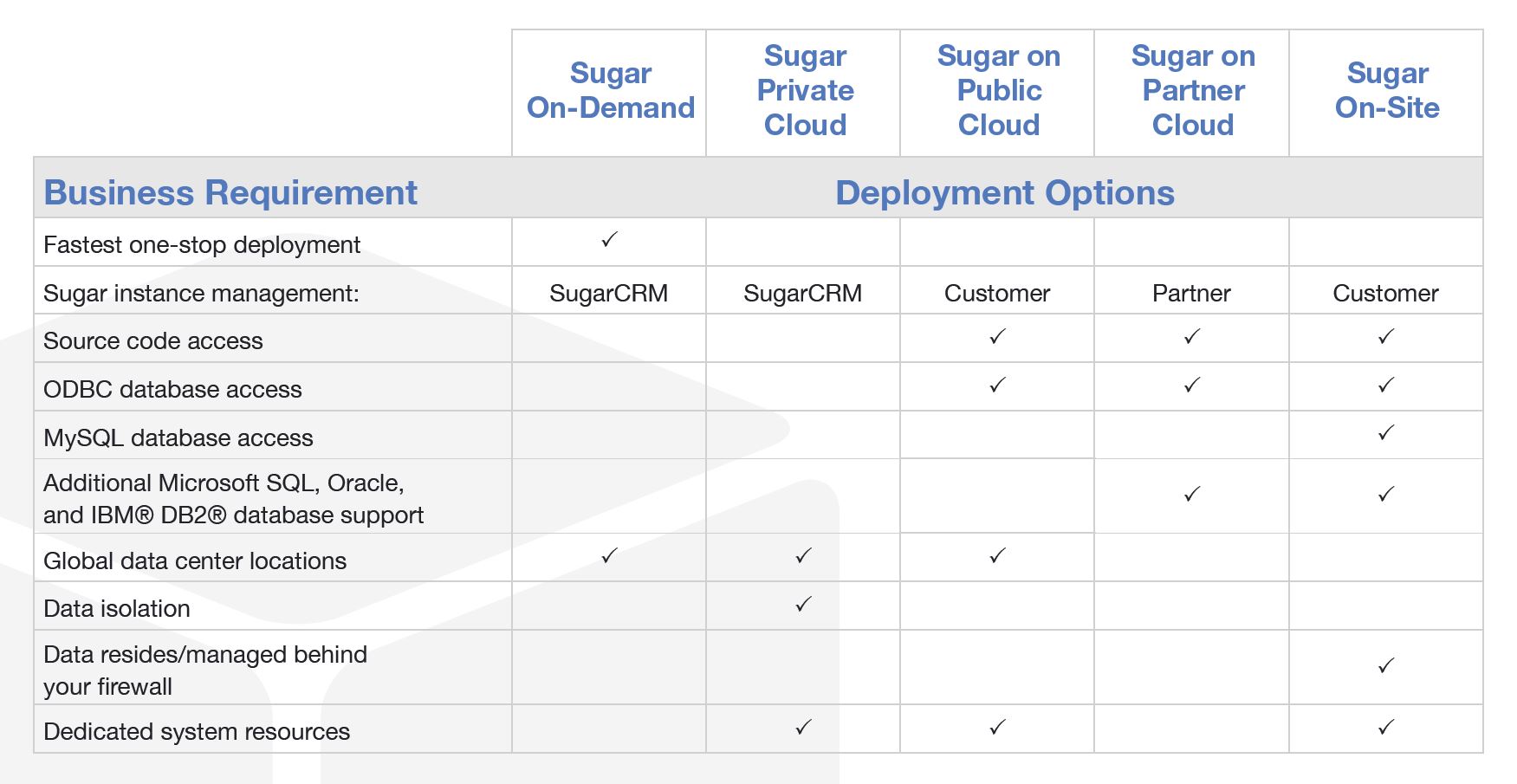 Featured
Rankings season is upon us with March Madness right around the corner. It's been another year...

Read More

SugarCRM Inc., the company that helps global organizations build better business relationships, has named Faye Business...

Read More

Forrester defines the customer journey as the series of interactions between a customer and a company...

Read More