Software Plug-Ins for SugarCRM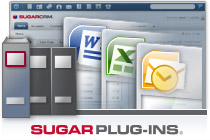 A software plug-in is an add-on for a program that adds functionality to it, with your Sugar Professional subscription, you have access to the Microsoft Office plug-ins.  Downloading and installing your plug-ins is easy. 
You want your customer information wherever you are working. The Sugar Plug-ins for Microsoft and IBM Lotus allow you to archive your emails into Sugar, build interactive spreadsheets with Sugar customer data and mail merge Sugar customer data into documents.
Microsoft Outlook
The Outlook plug-in allows you to perform a number of tasks. Archive emails from Outlook to the desired record(s) in Sugar such as contacts, accounts and opportunities. Additional functions include contact, meeting, and task synchronization, lead, contact, account and case creation, and more! Review the user guide for the Outlook plug-in so that you can quickly realize the full potential of this integration!
Microsoft Word
The Word plug-in allows you to perform mail merges either from Word or from Sugar. Please note that in order to use this plug-in, the 'Mail Merge' option under the Advanced tab of your user profile should be enabled. If you are still unable to authenticate the plug-in, your system administrator may need to enable a separate option in Sugar. The Word plug-in user guide provides you the next steps to generate your mail merge document.
Microsoft Excel
When using Sugar, you may find that you want to update data that isn't normally available through the Mass Update interface. You may also want to pull raw data from your Sugar instance to integrate with other reports and the Excel plug-in provides you with the necessary tools to perform these robust actions. With our Excel plug-in user guide, you will learn to harness the power of this tool to fully analyze and update your data.
Lotus Notes
For an additional cost, you can also purchase the Lotus Notes plug-in. The Lotus Notes plug-in is only available to Sugar Professional customers for an additional cost. If you purchased the plug-in, you will be able to integrate Lotus Notes to link documents, sync records (contacts, meetings, etc.), create new records and much more!
You should always run the latest release of the plug-ins that you wish to you use.
Featured
Rankings season is upon us with March Madness right around the corner. It's been another year...

Read More

SugarCRM Inc., the company that helps global organizations build better business relationships, has named Faye Business...

Read More

Forrester defines the customer journey as the series of interactions between a customer and a company...

Read More