New to CRM? Find Out Why You Should Consider SugarCRM
By now you would have heard the term Customer Relationship Management (CRM)—but what exactly does it mean and how does it help you?
CRM itself is about building better customer relationships; A CRM strategy provides organizations with enhanced visibility and understanding into who their current and potential customers really are. Ultimately, these systems are designed to improve customer satisfaction.

We hope the New to CRM kit will help you in your decision  making process. If you have questions, we are always here to answer them, just give us a call 818.227.5130.
See why SugarCRM is the user's CRM solution of choice by watching this short video.
As an open source CRM, SugarCRM can be customized and integrates with other software, an example of this is the QuickBooks SugarCRM Integration, designed to extend the functionality users have become accustomed to in the back office to the front office. The QuickBooks SugarCRM integration also allows for a single view of customer interactions with your company.
We invite you to join our upcoming webinar, where you will learn how sales teams can focus on the company profit objectives and provide an enterprise-wise, consistent view of customer activity and opportunities using QuickBooks and SugarCRM combined.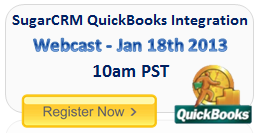 For more information speak to us today. 
The FBSG Team
Faye Business Systems Group, Inc.
Featured
Rankings season is upon us with March Madness right around the corner. It's been another year...

Read More

SugarCRM Inc., the company that helps global organizations build better business relationships, has named Faye Business...

Read More

Forrester defines the customer journey as the series of interactions between a customer and a company...

Read More