Marketing Automation Integrated with CRM – Critical Component For Business Success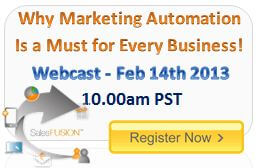 We invite you to join this free webcast to see SalesFUSION CMO, Kevin Miller discusses the benefits of Marketing Automation and how integrating your CRM will bridge the gap between your marketing and sales efforts.
When: Thursday, FEBRUARY 14th 2013
Time: 10.00am (Pacific Standard Time)
Attendees will come away with a solid knowledge of key concepts of marketing automation, how, what and why marketing automation is so critical to the workplace today. 
About SalesFUSION
SalesFUSION360 is a SaaS marketing automation and demand generation software platform that is specifically designed to connect your marketing and sales activities and processes in a manner that maximizes the ROI of your campaigns.
SalesFUSION is unique in that it is the only marketing automation software solution that is built on a CRM database. Because of this, it can integrate at a deeper level to your installed CRM systems. Today, SalesFUSION boasts the most out-of-the box integrations to CRM systems than any other competitor.
SalesFUSION will help your company's bottom line by giving your marketing team all of the latest technology available to generate demand and leads for your sales team.
Core features standard to SalesFUSION
Email marketing (Drip, Trigger & Bulk)
Landing pages
Lead scoring
Website visitor tracking
Social publishing
Event management
Multichannel marketing campaigns
Revenue analytics
Lead management
Social Sharing
CRM integration
List and segment management
Webinar integration
Nurture marketing program management
Template management
Microsites
Business intelligence
The importance of integrating Marketing to CRM
SalesFUSION integrates your marketing and sales efforts from a process and technology perspective. Helping companies bridge the gap between marketing and sales and implement valuable lead to sales management programs. SalesFUSION offers 100% pre-built, no-setup-cost integration with a number of CRM systems.
During this webinar Kevin will focus on the SalesFUSION SugarCRM integration.

For more information please call 818 227 5130 or email chloe@fayebsg.com
Featured
Rankings season is upon us with March Madness right around the corner. It's been another year...

Read More

SugarCRM Inc., the company that helps global organizations build better business relationships, has named Faye Business...

Read More

Forrester defines the customer journey as the series of interactions between a customer and a company...

Read More