SugarCRM Version 6.6 : Getting The Most Out Of Your SugarCRM Experience
The recent release of Sugar version 6.6 has a handfull of new features. See what's new in Sugar v. 6.6.
Sugar is delivering a simple and clean Sugar Portal experience, providing Administrative access to manage PDF Templates, and much more. Take a look.
Watch the video below to see whats new.
There are many additional options to further enhance your SugarCRM experience, with integration being a really critical component in getting the most out of any business management system.
SugarCRM is an open-source, web-based CRM solution, which makes it easy to customize and adapt to your changing needs.
Integrating between different aspects of an organization can reduce errors, increase productiveness, and allow management system to generate more timely and accurate information for management.  It can be invaluable to your business.
An example of this, and one of the most popular integrations of recent times is the QuickBooks SugarCRM integration.
Sign up to the live January webinar below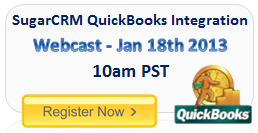 Click below to see the full details of additional integrations:
SugarCRM – Sage 100 ERP Integration
SugarCRM – Constant Contact Integration
SugarCRM – Authorize.Net Integration
SugarCRM – Intacct Integration
SugarCRM – QuickBooks Integration
If you would like us to develop an integration specifically for you please call us at 818 227 5130 to discuss.
Featured
Rankings season is upon us with March Madness right around the corner. It's been another year...

Read More

SugarCRM Inc., the company that helps global organizations build better business relationships, has named Faye Business...

Read More

Forrester defines the customer journey as the series of interactions between a customer and a company...

Read More