How To Utilize SugarCRM Support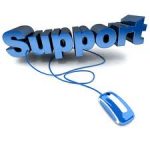 SugarCRM provides many online resources for all Sugar users. For those with paid editions you also have the ability to contact Sugar Support directly from within your Sugar instance for assistance.
Watch the video below to see how to best utilize the SugarCRM Support system.

Include
Include as much of the following that makes sense for your situation, to resolve your issue as quickly as possible without needing to spend additional time and communication gathering more information.
Clear Description – The more information, the better.  Please include:

Click-by-click steps to reproduce the issue.
Has this stopped working or has it never worked before?
How many users are experiencing the issue? One, multiple, or all? Admin and non-admin?
Does the error only occur in particular browsers?
Take the time to completely fill out the case form including version and On-Site stack information.

Instance URL – If you have several instances, please be specific about which is experiencing the issue.
On-Screen Errors or Messages – If there are errors on the screen, take a screen shot or copy and paste them into the case description.
Sugar Log Errors – With your logging level set to Fatal in Admin > System settings, include any errors that appear in the Sugar log file (Admin > System Settings > View Log).
Pictures – Screenshots are a great way to make clear the problem, so feel free to send them our way. Pictures must be attached as a note after the case is initially created.
Diagnostic File – Especially useful for On-Site instances, this zip file can be generated by going to Admin > Diagnostic Tool.  We recommend enabling the first 3 options as well as "SugarCRM Log File". As with pictures, this file must be attached as a note after the case is initially created.
Upgrades – Let us know if you recently upgraded and from what version.
Migration – For On-Site instances, include recent changes to your stack environment or the location of your Sugar instance.
Other Log Files – As applicable, you may choose to send us webserver, php or database logs.
SLA Expectations
Sugar Support currently provides local support by three regions: US, EMEA, and APAC. Based on the physical location of your company, your support window will align with one of the following windows:
| | |
| --- | --- |
| Support Center | Business Hours |
| US | 6 AM – 6 PM PST (Monday – Friday) |
| EMEA | 9 AM – 9 PM CET (Monday – Friday) |
| APAC | 9 AM – 9 PM AEST (Monday – Friday) |
While Sugar strives to resolve issues as quickly as possible, please note that their response times depend upon the service level of your subscription as well as the priority level (P1, P2, or P3) of the issue.  The priorities are defined as follows:
| | |
| --- | --- |
| Priority | Definition |
| P1 |    Sugar (production instances only) is completely down or most functions are inaccessible by users |
| P2 |    Sugar is generally up and functioning but one or more items are not working as expected |
| P3 |    Non-critical issues or general questions on the application |
You can expect a first response to your issue within the following time frames based on your support SLA package (8×5, 12×5, or 24×7):
| | | | |
| --- | --- | --- | --- |
| | 8×5 | 12×5 | 24×7 |
| P1 | 4 business hours | 2 business hours | 1 hour (24x7x365) |
| P2 | 1 business day | 4 business hours | 2 business hours |
| P3 | 2 business days | 1 business day | 4 business hours |
Creating the Case
The primary method to contact the Sugar Support team is through the online SugarCRM Support Portal, though you can also send an email to support@sugarcrm.com if you prefer.  Customers who have purchased phone support may also use the provided phone number to submit a new case.
For creating cases via our portal:
Go to the SugarCRM Support Portal: http://support.sugarcrm.com
Login using your www.sugarcrm.com user name and password.
Click the Submit a Case link on the right hand side. Your case will be assigned to a support engineer and responded to promptly.
If the "Submit a Case" link is unavailable, please refer to the article Setting Up Access to the Sugar Support Portal.
Featured
Rankings season is upon us with March Madness right around the corner. It's been another year...

Read More

SugarCRM Inc., the company that helps global organizations build better business relationships, has named Faye Business...

Read More

Forrester defines the customer journey as the series of interactions between a customer and a company...

Read More