Are you utilizing your SugarCRM to its full potential? Optimize your Sales Pipeline and Business Processes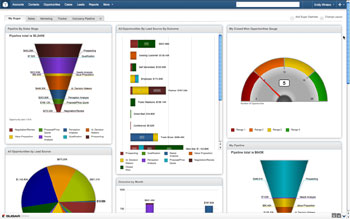 Technology definitely has a positive impact on the management of the sales process when chosen and implemented into the company wisely. Success and failure can ultimately come down to the ability to optimize the sales pipeline. With an effective sales process such as SugarCRM comes sales success.  Companies that try to shortcut the process by automating sales often end up automating ineffective processes.
Are you utilizing your SugarCRM to its full potential? Download this white paper by Henry Canaday to find out how SugarCRM optimizes your sales process.

A Sales Pipeline is a useful concept that can be utilized by almost everyone involved in your business to quantify the demand for sales, products and services. Effectively managing your sales pipeline, will smooth out customer demand and create a more stable sales cycle with more visible and reliable results. By placing cohorts of leads or prospects at the different stages of the sales process/sales cycle, you can measure the potential and progress through the pipeline, from unqualified lead to satisfied repeat customer.
The next step is to integrate your CRM software, to further optimize your business and sales processes. Integration is a really critical component in getting the most out of any business management system.
Over the years, we've helped our clients integrate their SugarCRM systems with a variety of other applications including marketing applications, payment systems and accounting software.
Click below to see the full details of our current integrations:
SugarCRM – Sage 100 ERP Integration
SugarCRM – Constant Contact Integration
SugarCRM – Authorize.Net Integration
SugarCRM – Intacct Integration
SugarCRM – QuickBooks Integration
Upcoming Webinars:
If you have any questions or would like additional information please don't hesitate to give us a call at 818 227 5130 or click below.
Featured
Rankings season is upon us with March Madness right around the corner. It's been another year...

Read More

SugarCRM Inc., the company that helps global organizations build better business relationships, has named Faye Business...

Read More

Forrester defines the customer journey as the series of interactions between a customer and a company...

Read More