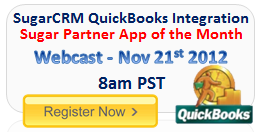 The App of the Month has been awarded to SugarCRM Gold Partner FBSG for their SugarCRM QuickBooks Integration Application, a newly developed application that brings together two of the major software offerings in their categories and allows the two packages to sync both ways.
The SugarCRM QuickBooks Integration Application, eliminates double entry of customers and sales orders in both Sugar and QuickBooks, updates Sugar with critical invoice history information that can be used for marketing campaigns and salesperson inquiries, and provides access to product lists and inventory status in Sugar without having to manually key in items
SugarCRM QuickBooks App of the Month Webcast
Join this Sugar Community Webinar to see the Sugar App of the Month in action.
In this month's community webinar, Sugar will be highlighting the SugarCRM – QuickBooks Integration Application from Faye Business Systems Group. This Application does everything you'd want in it to in a QuickBooks CRM integration, synchronizing customers, inventory items, invoice history, and sales orders/estimates between QuickBooks and Sugar.
Date and Time: Wednesday, November 21, 8 am PT