See How Sugar & QuickBooks Work Together to Sweeten Your Business Processes
UPCOMING WEBINAR
SugarCRM – QuickBooks Integration:  
See how Sugar & QuickBooks work together to sweeten your business processes.
Now the world's leading CRM and small business accounting software packages come together to bridge the gap.
SugarCRM is the fastest growing CRM software package in the world. QuickBooks is the most popular accounting  software package in the world. It only makes sense to integrate the two software packages, which will allow businesses to streamline operations while minimizing double entry. Your sales staff will no longer need access to QuickBooks, as all transactions, inventory, and invoices sync back to Sugar for full visibility.
Functionality Includes:
Two Way Sync between Sugar and QuickBooks
Syncs customers, inventory, invoice history, and sales orders
Enter quotes & sales orders into Sugar and have them appear in QuickBooks
Post invoices in QuickBooks and have them appear in Sugar (with line items)
Add new accounts in Sugar and have them appear in QuickBooks
Update customer addresses in QuickBooks and have them appear in Sugar
Be able to see inventory items, standard prices and costs, and quantity on hand in Sugar
Syncing can occur on a scheduler and defaults to every 10 minutes
Custom mapping of custom fields
Works with QuickBooks Pro, Premier, Enterprise, and Online
Works with Sugar hosted in the cloud or Sugar on an in-house server
Easy to install, easy to use
Key Benefits of Sugar & QuickBooks:
Eliminates double entry of customers in both CRM and accounting
Updates CRM with critical invoice history information that can be used for marketing campaigns and salesperson inquiries
Provides access to product lists in CRM without having to manually key in items
Eliminates double entry of sales orders in both CRM and accounting
In this webinar, Jake Buttikofer and David Faye from Faye Business Systems Group, a SugarCRM Gold partner, will demonstrate how the integration between SugarCRM and QuickBooks streamlines business processes.
Who Should Attend:
SugarCRM customers & partners
QuickBooks customers & partners
VPs, Directors and Managers of Sales
Finance and Sales Operations professionals
General Managers
What you will learn on this webcast:
 The benefits of integrating accounting software with SugarCRM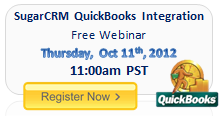 When: Thursday, October 11th, 2012
Time: 11am (Pacific Standard Time)
Please contact us if you have any questions about our integration or the webinar 818 227 5130

Download the Sugar QuickBook Integration Application Spec Sheet
Featured
Having a business requires that you stay on top of your game – always. It also...

Read More

Every buyer faces this question: Who installs the software? While some companies do have the resources...

Read More

The Sage Fixed Assets module allows Sage 100 users to manage fixed assets effectively from acquisition...

Read More