How to Create An Email Campaign in SugarCRM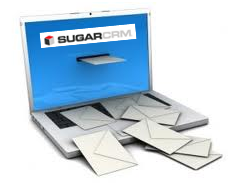 Are you utilizing SugarCRM to its full potential? Learn how to set up email campaign.
Why should you use an email campaign to market your product or services?  With so many online marketing tools available, email campaigns are one of the most cost effective, aggressive and efficient ways to reach your targeted market.
Many consumers prefer to get offers via email and more than half of the 2 billion Internet users worldwide are more likely to buy after getting a marketing email.
Don't let your competitor dig into your market share. Email is far more cost effective as a tool in your marketing toolkit. If you are not using email campaigns as an effective marketing tool then you may as well be handing your potential customers to your competitors on a platter. In fact about 95% of US online marketers currently use email metrics as another way to measure marketing effectiveness.
Executing an Email Campaign in SugarCRM
Both the administrator and the user must perform a set of tasks to send an email campaign.
The administrator must complete the following tasks:
Set up outbound emails to enable you to send out email campaigns, and specify the number of campaign emails in each batch.
Specify a bounce-handling inbox to route campaign emails that bounce back to you. Bounced emails contain specific identifiers that set them apart from emails that are responses from your targets.
Set up Scheduler jobs to process nightly mass email campaigns and bounced campaign emails.
The user must complete the following tasks:
Create an email campaign as described in To create a campaign. Alternatively, you can use the Campaign Wizard to create the campaign as described in Using the Campaign Wizard. The Campaign wizard will guide you through the steps listed below.
Specify the targets as described in Creating and importing Targets. You can import targets, create a new target list, or merge with existing target list.
Create an email template containing the message you want to convey to your targets. For more information, see Creating Email Templates.
Set up tracker URLs to track response to your campaign. For more information, see Creating Tracker Redirect URLs. For more information on creating a mailbox, see Email Settings.
Create an email marketing record that specifies information such as the target list, the email template, the campaign start date, and the bounce-handling inbox. For more information, see Creating Email Marketing Records.
Optionally, specify one or more Tracker Redirect URLs to track campaign activities. For more information, see To create a tracker redirect URL.
Optionally, run the diagnostic tool to ensure that the email campaign will be successfully executed. For more information, see To run diagnostics.
Send a test email to your test list to ensure the operation is successful. For more information on test lists, see Creating and importing Targets.
Clear statistics from the test email.
Request the administrator to schedule a job to send out the campaign emails.
Queue the email for the campaign launch.
Optionally, convert the campaign targets into leads or contacts.
You can associate a Web-to-Lead form with the campaign. For more information, see Creating Web-to Lead Forms.
After you launch an email campaign, you can view the campaign status for information on the campaign results. For more information, see Viewing Campaign Status.
Note:   The start date, start time, and status specified on the email marketing page determine when the email is sent.
Featured
Rankings season is upon us with March Madness right around the corner. It's been another year...

Read More

SugarCRM Inc., the company that helps global organizations build better business relationships, has named Faye Business...

Read More

Forrester defines the customer journey as the series of interactions between a customer and a company...

Read More