Another Successful SugarCRM Implementation Exceeds Expectations
By now you have heard all the buzz about cloud based SugarCRM. We can't say enough good things about how sweet Sugar is, but don't just take our word for it. Get insight from a client's perspective as to why Sugar is creating such a buzz.
Paramount Global Services is a wholly owned subsidiary of Paramount Can Inc. headquartered in California. Paramount operates out of 5 warehouses throughout Southern California, Northern California, and Arizona. Specializing in packaging products, export and import transportation, information systems and supply chain solutions.
When Mark McAnlis joined Paramount as its general sales manager for the U.S. sales force, he had two objectives: grow overall sales and significantly increase revenue from services. "When I came onboard, there was a significant amount of tribal knowledge about our customers, but no central repository, no visible sales pipeline or sales process, and really no sales management," recalls McAnlis. To overcome this it was essential for Paramount to develop a sales process and a visible pipeline.
With Sage 100 ERP (formerly Sage MAS 200), being the company's primary operations system, it was essential that the CRM solution integrate well with their already established operating system. SugarCRM met that requirement and two others: ease of implementation and affordability.
The early implementation focused on winning new business via increased pipeline visibility and better opportunity management.
The implementation of SugarCRM enabled Paramount to:
More than double new business in the first quarter of 2012 over any previous quarter
Shorten the sales cycle by 13.5 percent
Leverage greater pipeline visibility
Improve opportunity management
Successfully integrate SugarCRM with Sage 100 ERP and Constant Contact
Click below to read the full case study: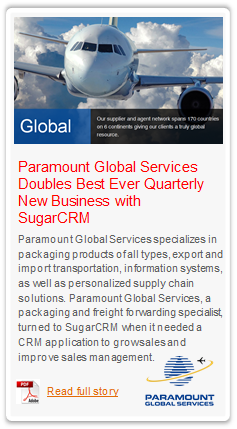 For more information or to discuss how implementing SugarCRM will benefit your business process call us at 818 227 5130 or email info@fayebsg.com 

Featured
Rankings season is upon us with March Madness right around the corner. It's been another year...

Read More

SugarCRM Inc., the company that helps global organizations build better business relationships, has named Faye Business...

Read More

Forrester defines the customer journey as the series of interactions between a customer and a company...

Read More