Time To Purchase A New ERP?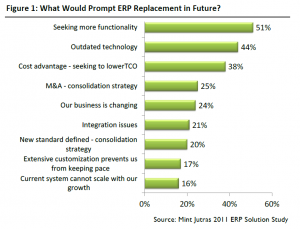 Time, effort and resources are used to successfully implement an ERP system. Change can be very daunting and not something that is always welcomed, although in the long run it is a necessary business function that will allow for business growth and beneficial technical advancements.
Many organizations will only consider changing its ERP software due to events that have forced them to. For example, the current system can no longer cope with new or changing business requirements, it's slow or won't work with new technology, or it is too expensive to keep it running.
Whatever the reason, there are many options and solution based on your requirements. It is important that you research, speak to ERP experts, have your requirements and business processes assessed before you decide with is the right solution for you.
The five main focal points driving change are:
Business Processes
Business processes driven by older, inflexible ERP systems become constrictive.
Systems Technology
Technology becomes outdated, making integration difficult and causing a loss of strategic technological advantages.
Software Vendor
Changes with the software vendor such as acquisitions or mergers directly impact the capabilities of the software and its future direction.
Reporting
Older systems are often full of information that cannot be accessed without significant time, energy, and effort.
Total Cost of Ownership
The total cost of ownership of the current system justifies the cost of purchasing a new ERP system.
Download this Mint Jutras white paper to find out more information and statistics.

Call us for a free assessment on 818 227 5130.
Featured
Rankings season is upon us with March Madness right around the corner. It's been another year...

Read More

SugarCRM Inc., the company that helps global organizations build better business relationships, has named Faye Business...

Read More

Forrester defines the customer journey as the series of interactions between a customer and a company...

Read More