Top 10 Reasons to Use Cloud Computing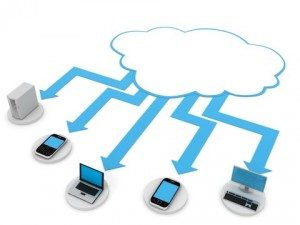 Over the last few years there has been a shift in the way we conduct business and access our software and services. This shift is due to the ever evolving technology and increasing resource.
Due to the cloud computing environment, there has been a significant workload shift. Local computers no longer have to do all the work when it comes to running applications or storing information, with the many networks of computers that make up the cloud designed to handle them instead.
If you have a web-based e-mail service like Hotmail, Yahoo! or Gmail, then you have already had some experience with cloud computing. The software and storage for your account doesn't exist on your computer — it's on the service's computer cloud.
But cloud computing extends to so much more than just web-based email. You can now run your entire business on the cloud. Allowing you access to all of your important information from anywhere at anytime. The benefit of running your business on cloud based applications are extensive with applications such as SugarCRM or Intacct.
Here are 10 reasons why you should switch to cloud computing now include:
Reduced costs: Cloud computing reduces your hardware, computers, operating system software, networking management, and overall IT expenses. In addition, with cloud computing, you only pay for what you use.
Scalability: You can scale the storage needs of your business rather than going out and purchasing expensive software or hardware. No longer would you have to worry "is my server big enough to handle the software"?
Automatic Updates: No need for IT to worry about paying for future updates and upgrades in terms of software and hardware.   They are generally included in annual subscription fees.
Remote Access:  employees, partners and clients can access, and update information wherever they are, rather than having to run back the office or having to use remote access software and tools to access the server in the office.
Disaster Protection: With your company's data safely stored on secure data centers instead of your server room, losing power due to hurricanes, earthquakes or a construction worker cutting the power lines, you are back at work as long as you have an internet connection.   No more worrying about backups as well.
Ease of Implementation: Implementing cloud services and software is generally far easier (and less costly) than implementing server based software.   No longer do you have to schedule or pay for "Software Installation".   And, your implementation team can configure the software from any location, rather than having to be onsite at your facility.
Skilled Vendors: Who would you rather manage and protect your data?  Companies like Google, Microsoft, IBM, Sage, Sugar, etc. or your local IT staff?
Response Time: Cloud computing accomplishes a better response time in most cases than your standard server and hardware.
Even playing field for small firms: This allows small companies to compete more effectively with some of the larger businesses, balancing the playing field. A small business can utilize the same tools that Fortune 100 companies use and can do this because with cloud computing, your business will only pay for what you need  (see #1).
Best of Breed Options: Because the best cloud software packages are all built on compatible platforms, many can be integrated with each other in ways that local, server based software cannot.   You can get the best cloud CRM software (Sugar), the best cloud ERP software (Intacct), the best cloud email marketing tool (Constant Contact), the best cloud credit card processing service (Authorize.Net), et al and have them all integrated and working together.    Try that with server based software!
If you would like more information about cloud computing and available applications please contact us. Call 818 227 5130 or click below.

Featured
Rankings season is upon us with March Madness right around the corner. It's been another year...

Read More

SugarCRM Inc., the company that helps global organizations build better business relationships, has named Faye Business...

Read More

Forrester defines the customer journey as the series of interactions between a customer and a company...

Read More