SugarCRM SaaS – The Open Cloud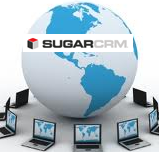 What is SaaS?  Software-as-a-Service also known as SaaS is a delivery method. Providing access to software remotely as a Web-based service.
SugarCRM provides vendor hosted-SaaS supplied by SugarCRM and cloud-based delivery options powered by the Sugar Open Cloud ecosystem.
Software-as-a-Service (SaaS) has evolved over the past 15 years through three distinct phases: the Application Service Provider (ASP) model, multitenant SaaS and now distributed SaaS.
There are a lot of benefits certain organizations will see from SaaS CRM software which you can read about in the downloadable PDF.
Download this detailed white paper to find out more about:
The Evolution of On-Demand Applications
Cloud Computing and SaaS: Hype Versus Reality
The Sugar Open Cloud: Benefiting End User Organizations

If you're interested in finding out more about SugarCRM call us at 818 227 5130 or sign up for the Free Trial below.

Featured
Having a business requires that you stay on top of your game – always. It also...

Read More

Every buyer faces this question: Who installs the software? While some companies do have the resources...

Read More

The Sage Fixed Assets module allows Sage 100 users to manage fixed assets effectively from acquisition...

Read More