SugarCRM Opens the Door to Large Enterprises – IBM Adopts Social Selling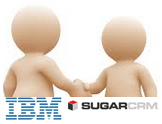 IBM's VP of sales transformation, Gary Burnette, gave a presentation about IBM moving to "social selling", at the annual SugarCRM conference in San Francisco earlier this year.
The new sales approach requires a new CRM infrastructure which is centered around SugarCRM along with a plethora of IBM technologies.
IBM is moving away from a traditional sales approach, and towards SugarCRM and its social selling aspect, leveraging a variety of technologies.
IBM and SugarCRM developed a relationship over the last two years, through the context of IBM's Global Alliances Partnership and is set to become the core of IBM's new internal CRM platform. The new CRM will be rolled out to tens of thousands of users worldwide.
According to the IDC, cloud services will grow almost threefold and reach $44.2 billion by 2013. A recent IBM survey of more than 2,000 companies revealed growing adoption of cloud computing among midsize firms.
Download this OVUM analyst insight to read more about the SugarCRM and IBM partnership.

For more information about SugarCRM contact us now 818 227 5130
Click below for an obligation free trial of SugarCRM
Featured
Rankings season is upon us with March Madness right around the corner. It's been another year...

Read More

SugarCRM Inc., the company that helps global organizations build better business relationships, has named Faye Business...

Read More

Forrester defines the customer journey as the series of interactions between a customer and a company...

Read More