Press Release – Intacct Records Largest Quarterly Growth in the Company's History
PRESS RELEASE BY INTACCT- FOR IMMEDIATE RELEASE
Intacct Records Largest Quarterly Bookings in Company's History
Strong Company-wide Execution Delivers Year-over-Year New Bookings
Growth of Nearly 60 Percent for both the Quarter and Full Fiscal Year
SAN JOSE, Calif. – July 26, 2012 – Leading the surge in adoption of cloud financial management and accounting applications, Intacct today delivered impressive results for the company's full fiscal year and fourth fiscal quarter, ended June 30. For the full year, Intacct's new bookings increased by 59% over the prior year. For its fourth fiscal quarter, Intacct delivered new bookings growth of 58% over the same quarter last year – resulting in the largest quarterly bookings in the company's history.
Intacct's channel program continues to attract top partners and provides an added growth driver for the business. Intacct's channel program now boasts more than 20 of the Top 100 VARs and 18 of the Top 100 Accounting Firms, based on Accounting Today's most recent Top 100 lists. Intacct's commitment to these high quality partners shows in the business results. In the most recent fiscal quarter, new bookings from Intacct Business Partners were up 66% over the same period a year ago. For the full fiscal year, Intacct Business Partners closed more than three times as many new deals versus the prior year.
For companies outstretching the limits of QuickBooks®, or businesses saddled with clunky, outdated on-premises financial applications from Microsoft, Sage, Deltek, and Blackbaud, Intacct has firmly established itself as the best-in-class provider of cloud financial applications. Intacct offers real-time reporting and business analytics, anytime anywhere access, and powerful automation. In addition, tight integration with Salesforce CRM and other leading business applications, plus superior compliance and auditability, provide a strong impetus for companies to upgrade their financial system to Intacct.
"Growing momentum in the cloud financial applications market continues to put wind in our sails," said Robert Reid, president and CEO of Intacct. "Intacct's growth rate remains the envy of the marketplace. New bookings growth from just our third to fourth fiscal quarter alone was 40% – delivering our largest-ever quarter for bookings. Going forward, we see increased opportunity to grab additional market share because of our comprehensive financial solution for mid-market companies."
About Intacct
Intacct is the cloud financial management company. Bringing cloud computing to finance and accounting, Intacct's award-winning applications are the preferred financial applications for AICPA business solutions. Intacct applications, in use by more than 5,000 organizations from startups to public companies, are designed to improve company performance and make finance more productive. Hundreds of leading CPA firms and Value Added Resellers offer Intacct to their clients. The Intacct system includes accounting, contract management, revenue management, project and fund accounting, inventory management, purchasing, vendor management, financial consolidation and financial reporting applications, all delivered over the Internet via cloud computing.
Intacct is headquartered in San Jose, California. For more information, please visit www.intacct.com or call 877-437-7765. Connect with Intacct on LinkedIn, Facebook, Twitter or YouTube.
Press Contact:
Peter Olson
Intacct
408-878-0951
polson@intacct.com
http://www.twitter.com/intacct_peter
# # #
Intacct and the Intacct logo are trademarks of Intacct Corporation. QuickBooks is a trademark of Intuit. All other company and product names mentioned herein may be trademarks of their respective owners.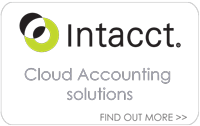 Featured
The Sage Fixed Assets module allows Sage 100 users to manage fixed assets effectively from acquisition...

Read More

Rankings season is upon us with March Madness right around the corner. It's been another year...

Read More

SugarCRM Inc., the company that helps global organizations build better business relationships, has named Faye Business...

Read More