7 Reasons Why You Should Embrace Social Media in Sales – SugarCRM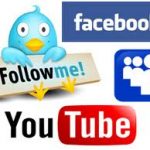 Social CRM (Customer Relationship Management) can be defined as the use of social media technologies and tools, to engage not only with your customers but with the world.  SugarCRM allows you to utilize social media straight from your CRM system.
"Social CRM is a philosophy and a business strategy, supported by a technology platform, business rules, workflow, processes and social characteristics, designed to engage the customer in a collaborative conversation in order to provide mutually beneficial value in a trusted and transparent business environment. It's the company's response to the customer's ownership of the conversation".                                                                                                                                                                                  Paul Greenberg – Publisher 
Social CRM is a transformation in the way buyers and sellers interact during a purchase decision. It is about empowering the sales function to improve a company's ability to collect and aggregate insights about customer needs and behaviors by augmenting transition data with data customers share online.
1. Add value.
2. Identify key influencers, and build relationships with them.
3. Earn a conversation.
4. Actively monitor behavior.
5. Have a presence on social media channels.
6. Establish a social media policy for sales.
7. Consider the customer experience.
A successful Social CRM program requires a plan, implementation and commitment. Download this free Gleanster white paper

We are offering obligation FREE SugarCRM Trials today. For a FREE 7 DAY TRIAL call us at 818 227 5130
Featured
Rankings season is upon us with March Madness right around the corner. It's been another year...

Read More

SugarCRM Inc., the company that helps global organizations build better business relationships, has named Faye Business...

Read More

Forrester defines the customer journey as the series of interactions between a customer and a company...

Read More