Ensuring the Financial Success of Your Services Business With Intacct SaaS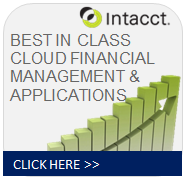 There has been a significant shift in the way we do business these days, with companies looking to applying the software-as-a-service (SaaS) model to just about everything, starting from core business functions,  IT, to industry processes. Intacct is one such company that offer financial and accounting solutions in the cloud.
For software and SaaS companies, maximizing the profitability of  professional services organization is challenging.  How can you avoid cost overruns, delayed cash flow, and squeezed profit margins and ensure that each engagement is profitable?
There are three primary benefits from utilizing the cloud include:
Cost Savings: No software needs to be installed, saving time and money for IT departments and end-users. Since data is stored in the cloud, users can access their applications anywhere from any device with an Internet connection.
Agility: Companies can scale up or scale down on an as-needed basis and pay only for what they use.
Focus: IT departments can spend less time on deployment and maintenance and instead focus on more strategic initiatives that will have top and bottom line impacts.
Download "Ensuring the Financial Success of Your Services Business" white paper and learn:
How manual processes can lead to revenue leakage.
Why real-time visibility is necessary to effectively manage project costs, revenues and project performance.
The economic impact of disconnected professional services and finance teams.
This white paper explains how the top performing professional services organizations are able to translate service delivery success to financial success. You will also learn how you can gain visibility to each engagement, capture up to 10% more billable time, and increase EBITDA by 6%.

Featured
Having a business requires that you stay on top of your game – always. It also...

Read More

Every buyer faces this question: Who installs the software? While some companies do have the resources...

Read More

The Sage Fixed Assets module allows Sage 100 users to manage fixed assets effectively from acquisition...

Read More