10 Steps To Buying The Right CRM System For You – SugarCRM Free Trial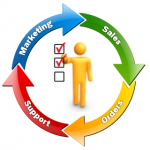 A Customer Relationship Management (CRM) solution is designed to build value for your business. It does this by opening up essential communication channels and creating a client focused knowledge base to better serve you and your clients throughout all cycles of your relationships. SugarCRM is one such solution, it is easily adaptable and integrate with other open source software.

CRM is about understanding the buying habits and preferences of your customers and prospects so you can:
• Build and strengthen customer relationships to keep them coming back
• Provide value-added services that are difficult for competitors to duplicate
• Improve your product development and service delivery processes
• Increase your staff's awareness of customer needs
• Reduce customer frustration by not asking the same questions over and over.
Download the essential information you need to make the best decision possible  to help you build a business case for a CRM system. With so many solution in the current market place choosing the Right CRM solution for you may not be such an easy task. The best action to take is to research, know what you are looking to achieve and speaking to vendors.

This white paper provides you with 10 steps that will help you pare down the field of potential solutions to the vendors who are the best fit. It also reviews three common mistakes to avoid when making a CRM selection.
Featured
Rankings season is upon us with March Madness right around the corner. It's been another year...

Read More

SugarCRM Inc., the company that helps global organizations build better business relationships, has named Faye Business...

Read More

Forrester defines the customer journey as the series of interactions between a customer and a company...

Read More