Faye Business Systems Group Wins Top Performer Award at SugarCon 2012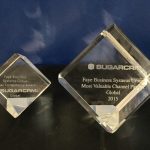 SUGARCON — SAN FRANCISCO, Apr 24, 2012 — Faye Business Systems Group (FBSG), today announced that it has achieved a Top Performer award in SugarCRM's Annual Global Partner Awards Program. Awards were given this week at SugarCon 2012, an annual customer, user and partner conference being held April 23-26, 2012 at The Palace Hotel in San Francisco, California.
The Top Performer Awards were given to 29 companies by region. Each company achieved growth from 2010 to 2011 and secured at least $20,000 in new customer subscriptions with SugarCRM. FBSG was one of the winners in the North America region.
"We are incredibly proud to receive these awards at SugarCon this year," said David Faye, CEO of Faye Business Systems Group.   "Our team worked hard this year, and it's great to receive this kind of recognition.  We would also like to congratulate all the other SugarCRM partners that received awards at the partner award ceremony as well.
"We want to congratulate FSBG on their Top Performer award," said Jeff Campbell, Vice President of Worldwide Sales. "They have worked incredibly hard, and we have enjoyed watching them have so much success. We are looking forward to FBSG continuing their success in 2012."
More About SugarCon 2012
SugarCon 2012's theme is "Explore the Possibilities of CRM," inspiring attendees to dig deeper into the vast capabilities that CRM offers. In keeping with SugarCRM's open approach to business, the CRM community, not SugarCRM, built the conference schedule based on attendee suggestions and online voting. The event will offer eight tracks with more than 80 breakout sessions, as well as separate UnCon and training programs.
For more information on SugarCon 2012, visit the event web site. To register for the event, visit the registration page.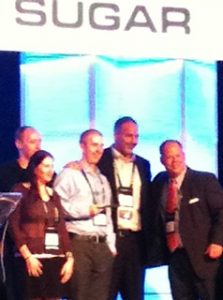 About FBSG
Faye Business Systems Group is a Southern California-based technology consulting firm and Software Company with over 25 years of experience in helping growing companies get "over the wall" and optimize their financial and business systems to become more profitable. FBSG uses SugarCRM, Sage MAS 90 and MAS 200, Intacct, and a variety of custom software solutions to meet client needs. Services include software development, project management, packaged software implementations, custom software implementations, integration, consulting, training, and support.
For more information, call (818) 227-5130, email info@fayebsg.com, or visit  https://fayebsg.com/.   Connect with Faye Business Systems Group on LinkedIn, Facebook, Twitter or YouTube.
About SugarCRM
SugarCRM makes CRM simple. As the world's fastest growing customer relationship management (CRM) company, SugarCRM applications have been downloaded more than ten million times and currently serve over 1,000,000 end users in 192 countries. Over 7,000 organizations have chosen SugarCRM's On-Site and Cloud Computing services over proprietary alternatives. SugarCRM has been recognized for its customer success and product innovation by CRM Magazine, InfoWorld and Customer Interaction Solutions.
For more information, call (408) 454-6900 or 1 87 SUGARCRM toll-free in the US, email contact@sugarcrm.com, or visit www.sugarcrm.com. You can also connect with SugarCRM on Facebook, Twitter and YouTube.
Media Contacts:
Chloe Larnach
Faye Business Systems Group
(818) 227 5130
Chloe.Larnach@fayebsg.com
Elena Annuzzi
SugarCRM
(408) 792-6952
eannuzzi@sugarcrm.com
Featured
Having a business requires that you stay on top of your game – always. It also...

Read More

Every buyer faces this question: Who installs the software? While some companies do have the resources...

Read More

The Sage Fixed Assets module allows Sage 100 users to manage fixed assets effectively from acquisition...

Read More