Microsoft Office 365 Price Cut
Voted the best cloud app of 2011 by CRN, Microsoft's cloud-based Office 365 launched in June 2011.
"I'm thrilled to announce that we're lowering the prices of most of our Office 365 for enterprise plans by up to 20 (percent). These changes are effective today at Office365.com for new and renewing direct customers." announce Microsoft's Kirk Koenigsbauer on March 14th 2012. Microsoft officials are attributing the cuts effective immediately to economies of scale and skills among its data centers, developers and support personnel.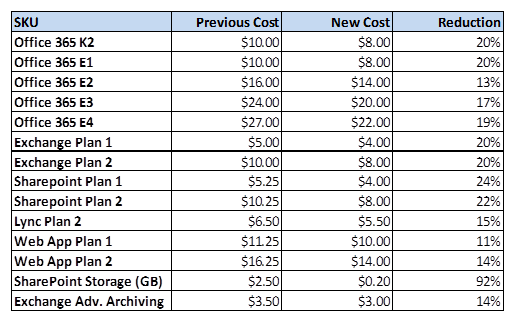 The A2 level of service for Office 365 are expected to be made available for free for the faculty and staff of educational institutions and their students in the coming months.
See the new prices on Office 365's enterprise plans
Featured
Having a business requires that you stay on top of your game – always. It also...

Read More

Every buyer faces this question: Who installs the software? While some companies do have the resources...

Read More

The Sage Fixed Assets module allows Sage 100 users to manage fixed assets effectively from acquisition...

Read More