Five Best Practices For Optimizing The Sales Pipeline with SugarCRM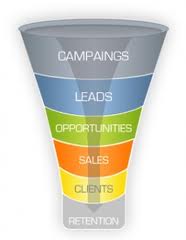 Sales Pipeline with SugarCRM
A Sales Pipeline is a useful concept that can be utilized by almost everyone involved in your business to quantify the demand for sales, products and services. Effectively managing your sales pipeline, will smooth out customer demand and create a more stable sales cycle with more visible and reliable results. By placing cohorts of leads or prospects at the different stages of the sales process/sales cycle, you can measure the potential and progress through the pipeline, from unqualified lead to satisfied repeat customer.
Success and failure can ultimately come down to the ability to optimize the sales pipeline. With an effective sales process comes sales success.  Companies that try to shortcut the process by automating sales often end up automating ineffective processes. Technology definitely has a positive impact on the management of the sales process when chosen and implemented into the company wisely.
Download this white paper by Henry Canaday to find out how SugarCRM optimizes your sales process.
[download id="13″]
Featured
Having a business requires that you stay on top of your game – always. It also...

Read More

Every buyer faces this question: Who installs the software? While some companies do have the resources...

Read More

The Sage Fixed Assets module allows Sage 100 users to manage fixed assets effectively from acquisition...

Read More