Why Is SugarCRM At The Forefront Of Integration?
SugarCRM is at the forefront of integration with its open source, standards-based architecture which enables applications to be seamlessly integrated with each other.
Integration between CRM solutions and other business applications has had a long, yet troubled, history. Traditionally, it's been difficult to integrate these systems because of the proprietary architectures of the solutions and the lack of standards for exchanging data.
This is still the case with many upper-midmarket and enterprise customers who have implemented CRM solutions that are tied to, but not sufficiently integrated with, ERP, content management systems (CMS), or E-commerce solutions.
The current limitations imposed by on-premise legacy software and the multi-tenant software-as-a-service (SaaS) model has resulted in a new breed of applications and architectures being developed to these needs. Open source languages and open standards are coming to the forefront, resulting in supple software architectures and software development models, which in turn has lead to more flexible business applications delivered on-demand or on-premise.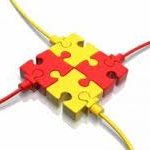 There are many options for integration such as:
 ERP
 E-commerce
 Accounting
 Content Management System (CMS)
 Telephony
We are continuously developing and improving integrations, see our:
SugarCRM – Constant Contact Integration
Call us at 818 227 5130 or email at info@fayebsg.com for additional information.
Featured
Choosing a new CRM isn't an easy decision. However, once an organization gets to the finish...

Read More

Should you host your customer relationship management software in the cloud? Short answer: yes. We're going...

Read More

Have you ever heard of Pareto's Principle? Neither had we by that name. But it's also...

Read More