A Cloud ERP Integration Will Free Your Business
As economic, market and technology changes evolve at an ever increasing rate it is apparent that business systems need to adapt to these changes to ensure their enterprise resource planning (ERP) systems keep up with the demand and changes. Being left behind can be a costly and detrimental to the bottom line of any business.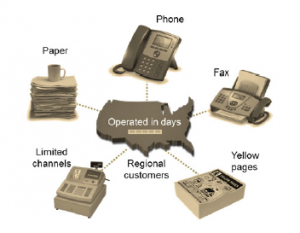 "Approximately half of ERP customers are currently on releases that are two versions behind the current release, which may be four years old or more."  —Forrester Research
Technology has transformed the world of business software and consumer applications. But many ERP systems have remained the same.
Organizations are becoming increasingly connected with the need to integrate with suppliers, access online channels, or provide real time status to downstream customers. But their on-premise ERP systems fail to keep up and require money, time and effort in an attempt to integrate.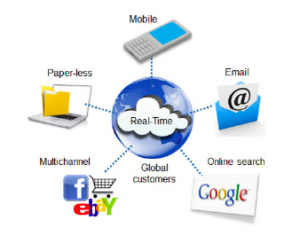 Cloud ERP Integrations frees businesses from the brittle, inflexible ERP of the past that resists change. It means that businesses get the latest innovations automatically – from new features to support for the latest regulations. No more waiting, no more costly upgrades, no more upgrade risk. No more outdated ERP.
Times have changed, technology has changed and business has changed, but have your business practices and ERP systems changed to give you the upper hand and increase your bottom-line? Are you being left behind while your competitors making the move?
Ask yourself these six core questions of the ERP solution, if it is to perform in the modern business world:
1.   Do you do functionality, not complexity?
Less complexity, but not at the expense of functionality.
Deliver deep and broad first-class functionality.
Deliver all the requirements needed, but all within a simple, integrated design.
2. Are you integrated or interfaced?
Exchange real-time information.
Share a common database and user interface.
Fully-integrated functionality for accounting and financial management, purchasing, inventory, sales, customer relationship management.
3. Do you scale, or do you need add-ons?
Integrated design, which provides all the functions, your company needs now and into the future.
A flexible system that can be easily configured to fit organizational changes as business grows to thousands of users.
4. Are you web-native…or just web-enabled?
Web-native means you should be accessible the same way in both client/server and Web modes.
ERP software systems may offer a customized web connection to dedicated functions, but few provide the ability to operate locally or through the web in the exact same fashion.
Adaptable for expanding business over multiple sites, or develop relationships with premier suppliers, partners or customers.
5. Are you multi-country?
We are working in a global village now.
Support a multitude of languages, if that what you require.
6. What's your cost of ownership?
Designed for rapid implementation and customization, while still providing advanced features as a standard.
 The cost of maintaining.
Bringing your business into line with the worlds fast growing and ever evolving technology, enabling access to valuable resources in the business world today will increase functionality and flow.
 So which ERP system is right for you? That's what we are here to help you with.
Sage ERP MAS 90 and 200 is one such ERP solution driving productivity and profits up while cutting costs with customizable enterprise resource planning software that has exactly what your business needs to grow. Sage ERP MAS 90, 200, and 200 SQL go beyond simple accounting packages with a broad selection of integrated, feature-rich modules and in-depth capabilities.
Intacct, is a cloud financial management system, which can help you get up and running with best-in-class cloud financial management and accounting software. You'll gain unmatched business visibility and complete flexibility—along with very rapid payback and a compelling ROI. Most clients that select this option achieve a full payback within six months of deciding to make the move to Intacct.
At Faye Business Systems Group we strive to make accounting and customer relationship software suit your needs, we therefore customize and integrate packages to suit you. We currently offer a SugarCRM and Sage MAS 90 and MAS 200 to:
Synchronize customers between SugarCRM and Sage MAS 90 and MAS 200
Synchronize inventory items (products) between SugarCRM and Sage MAS 90 and MAS 200
Synchronize Sage MAS 90 and MAS 200 customer sales history into SugarCRM
Synchronize Sage MAS 90 and MAS 200 customer item sales history into SugarCRM
Synchronize Sage MAS 90 and MAS 200 open invoices into SugarCRM
Synchronize quotes and orders entered in SugarCRM into Sage MAS 90 and MAS 200
We are here to assist and asses what the best option for you is.
Call us now at 818-280-4820.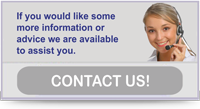 Featured
Having a business requires that you stay on top of your game – always. It also...

Read More

Every buyer faces this question: Who installs the software? While some companies do have the resources...

Read More

The Sage Fixed Assets module allows Sage 100 users to manage fixed assets effectively from acquisition...

Read More