Technology Investment –Tips To Select The Right ERP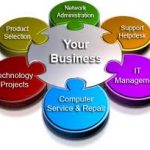 Technology is essential to each and every business, even if you don't consider your business to be a "technology" company. You deal with technology in almost every aspect of your business already from software, security, computers, through to phones. You're already participating in technology whether you realize it or not, from basic retail sales to sophisticated networks that link people and places around the globe. Importantly technology helps organizations maintain a competitive edge and build a strong presence in the business world.
It's important to keep up with technology in order to get the most out of the technology you already have, to keep in line with emerging new technology, and to find the information that will help you make the right buying decisions. Like any investment, it must begin with an understanding of your organization's strategy, goals and objectives and ultimately it must deliver value to your business.
To create a business case for an ERP investment and select the right ERP option, organizations should follow a 7-step process:
1. Describe the business challenge
2. Assess the potential benefits of the ERP investment
3. Assess the potential costs of each ERP option
4. Assess risks and issues that might arise during the implementation
5. Recommend the preferred solution
6. Describe the implementation approach
7. Measure potential and actual ROI
Download this whitepaper which describes the 7-step process that will help organizations build their own business case for an ERP investment.
Featured
The Sage Fixed Assets module allows Sage 100 users to manage fixed assets effectively from acquisition...

Read More

Rankings season is upon us with March Madness right around the corner. It's been another year...

Read More

SugarCRM Inc., the company that helps global organizations build better business relationships, has named Faye Business...

Read More