The Sugar Portal…Yet Another Reason To Choose SugarCRM
When we think of SugarCRM, we consider a number of great features:
Open source: This is a well proven development model and encourages a thriving third party development community to extend the product beyond its core features.
Feature set: It stacks up brilliantly against the leading CRMs in the market.
Usability: Users love the product. This makes it easy to deploy and get user acceptance across the organization.
Flexibility: SugarCRM is designed in such a way it lends itself to customization that can be extremely cost effective. This is definitely not the case for many other systems in the market.
Cost: SugarCRM is unbeatable value for money as one of the lowest cost solutions in the market.
Sugar Portal Organizations can allow their contacts to access and manage records on the Sugar server through the Sugar Portal.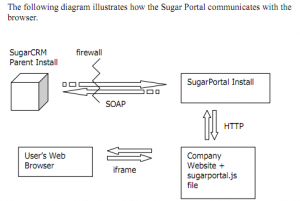 What is the Sugar Portal? Available for the SugarCRM Enterprise edition, the Sugar Portal is a self-service portal that can allow external users, customers, and contacts (anyone you assign a login) to view cases, bugs, and Knowledge Base articles. The Sugar Portal also enables these  users to create and edit cases and bugs in Sugar. Download the Sugar Portal Installation and User Guide for more in-depth information.
Organizations can allow their contacts to conveniently access and manage records on the Sugar server through the Sugar Portal. Contacts are external individuals such as vendors and customers.
You can use the Sugar Portal to access records in the following Sugar modules:
Cases: You can view, create, and edit cases. 
Bug Tracker: You can view, create, and edit bugs. 
Newsletters: You can subscribe and un-subscribe from newsletters. 
Knowledge Base: You can read articles created in Sugar
You can view, create, and edit cases or bugs in the Sugar Portal. Any case or bug that you create or edit is saved on the Sugar server. In order to delete it, you will need to log into Sugar.
Newsletters that are created in Sugar, display in Sugar Portal. You can subscribe to and unsubscribe from newsletters through Sugar Portal. Any newsletters that you subscribe to will be emailed to you.
FAQs are articles created in Sugar in response to frequent questions that an organization receives from its customers. The FAQs are listed on a separate tab but you can search for an FAQ on the Knowledge Base tab.
For more information or to discuss how we can assist you to install the Sugar Portal call us at 818 227 5130.
Featured
Choosing a new CRM isn't an easy decision. However, once an organization gets to the finish...

Read More

Should you host your customer relationship management software in the cloud? Short answer: yes. We're going...

Read More

Have you ever heard of Pareto's Principle? Neither had we by that name. But it's also...

Read More