Mobile To Boost CRM Adoption And Productivity
Customer relationship management (CRM) is at the top of the software market product list, according to Gartner. The forecast predicted from this analyst firm expects to see CRM spending to increase more than any other area of application software this year, according to a recent survey conducted.
Today's work environment is more mobile than ever. Mobile CRM makes it possible to reduce sales downtime, increase customer interaction and win more deals. Mobile Access for smartphones and tablets (including iPhone, Google Android, Windows Mobile and iPad) will move your business forward and increase productivity while team members are on the road.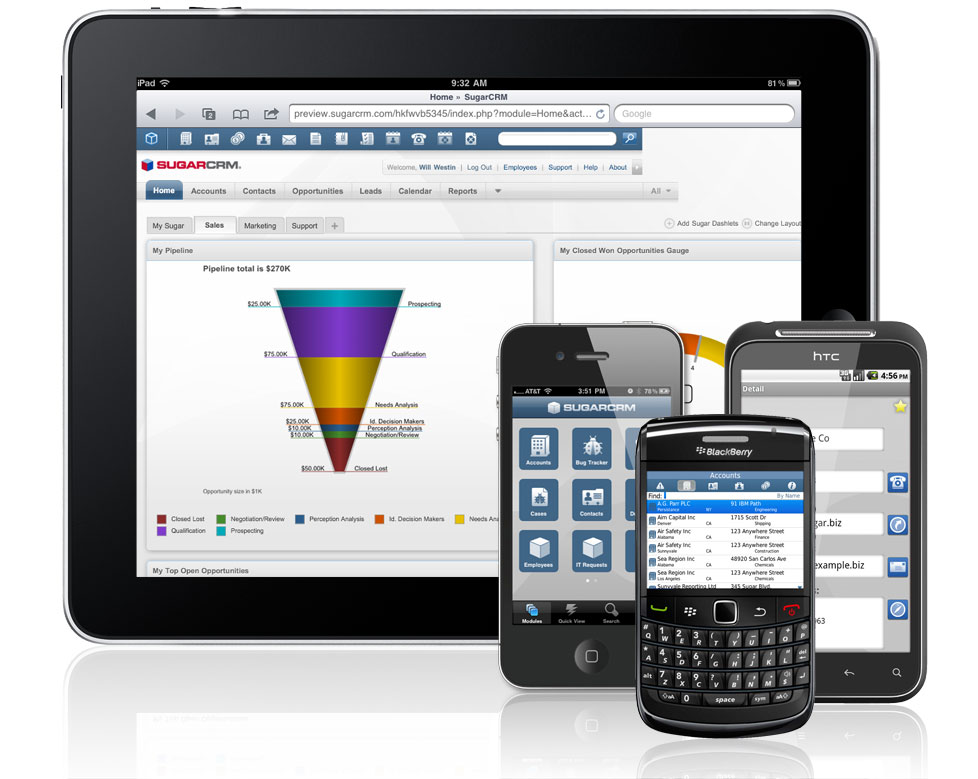 "Buyers of CRM continue to focus on investments that promote customer retention and enhance the customer experience, and they are increasingly interested in technologies that encourage development of customer communities and social networks," said Hai Hong Swinehart, research analyst at Gartner. Much of this investment will head toward mobile CRM applications, which connect the system to a whole lot more users.
Adopting a Mobile CRM solution directly leads to increased sales and productivity through:
Focus on improving CRM adoption
Integrating the end-to-end sales process with clear accountability.
Speed up of approval processes
Integration of billing and CRM
Expansion of functionality to include signature capture
Enhanced quoting capabilities
Exploring the iPad as a replacement for laptops
Improved adoption of CRM tools
A more productive sales force
Significant revenue increases
For more in-depth information about adopting a Mobile CRM download this case study.
SugarMobile for Apple's iPhone and iPad is an extension of the Sugar Professional or Enterprise Editions. This mobile CRM allows for the simplification of access and interaction with customer data while away from the office. Users are able to log calls made on the mobile phone via the Mobileapp. Any address can be clicked on to bring up the Google map location, and changes to system data are updated in real time — eliminating the need for cradling or synching of devices.
For more on SugarCRM Mobile, call us at 818-227-5130.
Featured
Rankings season is upon us with March Madness right around the corner. It's been another year...

Read More

SugarCRM Inc., the company that helps global organizations build better business relationships, has named Faye Business...

Read More

Forrester defines the customer journey as the series of interactions between a customer and a company...

Read More