Lessons from Dave Grohl and The Foo Fighters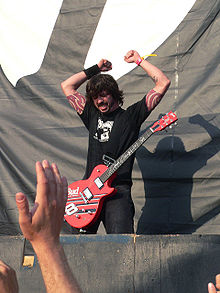 Saw the Foo Fighters last week at The Fabulous Forum in Inglewood.   What a great show!   Dave Grohl and the guys in the band put on quite a performance, rocking the house for three hours without stopping.   To me, it was more than just a great rock show, though.  It was a master class on professionalism, giving people what they want, and providing great value for a ticket.  There's a lot in their performance for all of us to learn.   Here's what I got from Grohl and his cohorts:
1.         Awe and Wonder
Why be subtle when you've got "awe and wonder"?    No one in the crowd could look away for fear of missing something incredible.   The intensity, speed, and sheer power on display were impossible to ignore.   When in doubt, knock their socks off with something overwhelming.
2.         Own Your Mistakes
On at least two occasions (might have been three), Grohl fell flat on his face when racing up and down the ramp between two stages.   Each time when he got to the microphone, he made a joke at his own expense.    Don't hide from your mistakes.   Own them, acknowledge them, make a joke about them…it ups your credibility that much more.
3.         Sincerity
He sincerely thanked the crowd several times for coming out and being involved.    He may have been faking it, but it came across as sincere, which bonded him with the crowd even more.   Be present in your interactions with customers.   Be present and be sincere.
4.         Bring in Other Experts and Pay Homage when Appropriate
In addition to having Fee Waybill (of Tubes fame) sing during one of the Encore songs, they also mixed in songs from Tom Petty and Pink Floyd.   He spoke glowingly about all.   Not that he needed it, but throwing in those songs gave him even more credibility with a crowd that was already his.    It showed their knowledge of history, breadth of experience, and self-confidence.    All good things.
5.         Technical Greatness
At the end of the day, there's never any substitute for technical greatness.   All kinds of nasty people have achieved greatness in the world from just plain being better at their craft than anyone else.  The tightness of the band, the drum playing of Taylor Hawkins, and Grohl's guitar playing and vocals were top notch.    They didn't miss a beat, and when they did, their enthusiasm in playing was so tremendous that it covered it up.   I don't know how much they practice, but I'm guessing it's a lot.    There's no replacement for being great at what you do.
6.         Stories
Nothing like mixing in some great stories with your performance to give perspective and to anchor your point.   Grohl and the band gave little anecdotes about their first concerts at the Forum which were interesting and funny.   Grohl admitted "living in the valley" and having about 17 Japanese restaurants within 3 blocks of his house.   When he described recording their latest album in the garage at his house (in the valley), he had us hanging on every word.   Stories make you human and allow your audience to relate better to you.
7.         Playing to the Whole Crowd
Not only did the band work all crannies, nooks, angles, and corners of the stage to make sure everyone at the show got a good look, but Grohl had a small private stage at the other end of the floor where he performed a lengthy acoustic set during the encore.   He made sure the folks in the crowd at the "far end" got a good look, and he made them feel good by paying attention to them.    This is just a smart move.   The folks in the "cheap seats" can give a bad review just as easily as the crowd closer to the stage.   Keep everyone engaged, keep everyone happy, so that you get positive reviews from everyone.
8.         Time Management
After a few songs into the show, Grohl made sure everyone was prepared for a long night.  He said (I'm cleaning up the language a bit here) "this won't be your usual hour show".   First he said it would be at least "2 hours and 15 minutes" 🙂   Eventually he worked up to three hours.   And that's pretty much exactly how long the show lasted.   There is nothing better than having your expectations managed and met.
I could go on and on.   During the show, I really just marveled at Grohl's command of the stage, his band, and the crowd.  He really knew his audience, and he gave us all exactly what we wanted.   That's a lesson in success for bands as well as the rest of us in business.   Rock on….
Featured
Rankings season is upon us with March Madness right around the corner. It's been another year...

Read More

SugarCRM Inc., the company that helps global organizations build better business relationships, has named Faye Business...

Read More

Forrester defines the customer journey as the series of interactions between a customer and a company...

Read More