Error #12 after installing Workstation setup for Sage MAS 200 on Microsoft Windows Vista
After installing Workstation Set up on Windows Vista, the following error might occur: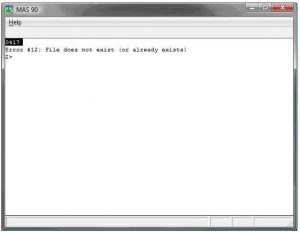 In order to troubleshoot this error:
Locate the directory where MAS 200 client was installed on the workstation.
Update the security settings to have "Full Access" to the folder where the MAS 200 client was installed.
Try Opening MAS 200 again.
NOTE: There should be no issue with adding the "Everyone" role for this, as this will eliminate the error for anyone else who might log into the same workstation and attempts to use MAS 200.
Featured
The Sage Fixed Assets module allows Sage 100 users to manage fixed assets effectively from acquisition...

Read More

Rankings season is upon us with March Madness right around the corner. It's been another year...

Read More

SugarCRM Inc., the company that helps global organizations build better business relationships, has named Faye Business...

Read More