SugarCRM Services
---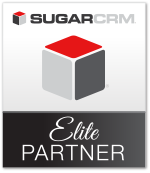 SugarCRM is an affordable and easy to use customer relationship management platform, designed to help your business communicate with prospects, share sales information, close deals, and keep customers happy. Sugar is the fastest growing CRM on the market, and thousands of successful companies use Sugar every day to manage sales, marketing and support.
Many years ago we sold, implemented, customized, and supported many of the leading CRM solutions in the market.   Then, in early 2010, we came across SugarCRM.    We instantly fell in love.    We fell so far in love that shortly after "meeting" Sugar, we dropped all our other CRM products for just our one true love.   What made us fall in love so hard and so fast?   Here's a few of the key things:.
Flexibility & Customizability
Sugar can be customized by non-technical users via Sugar's Studio tools. Custom fields, workflows, and home screen layouts can all be managed by standard users. Additionally, Sugar is Open Source and can be modified from the code level as well. While field changes and screen layouts can be customized by non-technical users, developers can also get their hands dirty and modify the code to act specifically as they need.  There is virtually nothing that Sugar cannot be made to do (if it's what you want).
Because Sugar is the most popular Open Source CRM in the world, there are a myriad of community developers as well 3rd party plug-in's that can work out-of-the-box to help meet your business needs. Sugar Integrates with Accounting & ERP software, Email Marketing, Social Media, and many other platforms out-of-the-box. Unlike other CRM's, you can integrate via Sugar's API as well as directly against the database. Sugar's 3rd party app store is www.sugarexchange.com and has thousands of plug-ins.    And, now, you can use all of the great integrations we've developed ourselves for QuickBooks, Sage 100 ERP, Intacct, Constant Contact, ShoreTel, Authorize.Net, and JIRA  (for now).
Sugar is less than half of the cost of comparable CRM packages like Salesforce.com. Sugar's base model is $35/user/month and contains 95% of Sugar's core feature-set. Unlike other CRM platforms, such as Salesforce.com,  Sugar does not make you upgrade to more expensive versions just to use basic CRM features such as Web-to-lead-forms, API services, workflows, etc. Sugar keeps your costs low, allowing for a greater ROI.
Sugar Mobile is included with all Sugar subscriptions. You can access Sugar from your Android, Blackberry, iPhone, or tablet. You will no longer have to deal with the complicated VPN process, as all employees will have access to Sugar via their mobile devices. Sugar can be accessed from mobile browsers as well as a dedicated application.
Every company has unique requirements. While one company might favor the Windows platform, another could favor Linux. One company could favor the cloud while another prefers everything to be installed on-site. Because of this, Sugar was designed so it can be hosted in multiple environments (On-premise/cloud/hybrid solution), and is compatible with multiple platforms (Windows vs. Linux).   It's your decision.
Because Sugar is the only CRM we sell, implement, customize, and support, our team has some of the most experienced and skilled Sugar developers, consultants, and project managers around.    This means when you implement Sugar with FayeBSG, you're getting a team 100% focused on Sugar.   We're not assigning staff whose core expertise is in another CRM and is being "borrowed" to help on a Sugar project.   At FayeBSG, we're ALL SUGAR, ALL THE TIME.
Our services reflect this.   They are not cookie cutter unless that's what you want.   Otherwise, they're unique and customized to your specific set of requirements.
In general, our services for SugarCRM include:
Project Management
Consulting
FayeBSG SugarCRM Jump Start
Installation & Configuration for onsite Deployments
Upgrades
Data Migrations
Training
Custom Development
Integrations
Report Writing
Dashboards
Special Projects
Ongoing Support
SugarCRM Wellness Review
FOR  RESELLERS:
Are you a SugarCRM reseller who is selling Sugar but lacks the resources to implement, customize, and support Sugar?    Check out our FayeBSG Reseller Program!   We're here for you.   The FayeBSG Reseller Program offers SugarCRM partners the opportunity to provide services, integrations and customization that they may previously have not been able to offer their clients.
Call us on 818-280-4820, and we can help support you.