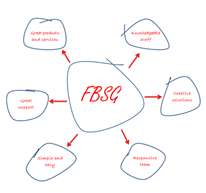 The purpose of stating our values is to commit to a way of being. In writing. Many companies have a lot of generic values that can mean a lot of things to a lot of people. Our approach is to be specific and true. Our values should create a framework for decision making and for a way of working and thinking. Every decision we make, every action we take, should be consistent with our values.
Take Care of Our Clients & Partners
Go above and beyond to do what it takes to complete projects timely and make clients feel "taken care of". Resolve our clients' issues …quickly and thoroughly.
Creativity and Innovation
Our success is based on our ability to deliver creative and innovative solutions to our clients and the marketplace.
Anything is Possible
We have to believe this. It's at the core of what we do. Never say "no" or "we can't do it". We're the "anything is possible" guys.
Openness and Customizability
We will only resell products and create software that have a backbone in openness and in the ability to be customized. We believe that the best solutions are custom solutions.
Growth
We are all about growing as a company and as individuals. Constant Improvement needs to be our motto. No fear of new stuff. In fact, we are always on the lookout for cool, new stuff.
Speed
Speed in responding to clients and teammates. Speed in resolving issues. There is nothing more impressive than speed.
Optimism & Passion
Believe in what we do. Love what you do. Want to be here doing it.
One Company
No finger pointing. No silos. Support your teammates. "WE" and not "I". Document your work so teammates know what's up.